Everything You Need to Know About the Swanky New Apple Watch Series 4
There's a new Apple Watch in town.
by Josie Rhodes Cook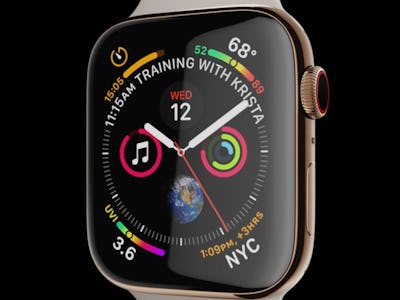 Unsplash / Alvaro Reyes
That magical moment has arrived: Apple's "Special Event" took place on Wednesday, September 12, and with it came a slew of announcements about new Apple products. One of those products is the Series 4 Apple Watch, and all the new features that come with it. Plenty of information about the gadget has leaked in recent days, but it wasn't until Wednesday that new specs were revealed.
"Everything about it has been redesigned and reengineered," explained Apple COO Jeff Williams during his introduction. "It's really beautiful."
The new SmartWatch will offer much more customization in what's ultimately a slimmer package with a larger face.
Health tracking was a key theme, with Dr. Ivor Benjamin - a cardiologist and president of the American Heart Association — on hand for the announcement to help tout its potentially life-saving features. Here's everything the new Apple Watch can do. 
Apple Watch Series 4: Next-gen Fitness Tracking
"Apple Watch Series 4 can detect a fall," Williams explained, after the company studied the issue and discovered that repeatable motion happens with most falls that could be analyzed and detected. If a person appears to fall and is immobile for one minute, a message is sent to emergency contacts alerting them to the problem. This could be a game-changer for people with mobility issues.
Calorie burn, resting heart rate, other heart rate notifications (such as a low heart rate), and more are available on the new Apple Watch. Mindfulness tools like a feature that will lead the user through deep breaths are featured on the Apple Watch Series 4 as well. The presentation heavily emphasized the Series 4 Apple Watch capabilities as "an intelligent guardian for your health."
As expected (and most impressively) you can also use your Apple Watch to take an electrocardiogram, or ECG, the first of its kind available to consumers "over the counter." Users need only open the app and put their finger on the digital crown to get a reading in 30 seconds.
In a move that could change the medical field and healthcare as we know it, the health information recorded on an Apple Watch Series 4 will be stored in the health app, and can be shared later with a doctor in PDF form. Benjamin said during the event that people often report symptoms to doctors that they don't present during a doctor's visit, and how important having this stored information could prove to be.
Apple Watch Series 4: Communication Is Easier Than Ever
The new Apple Watch changed a lot when it comes to communication as well. For example, users can now customize their watch face with pictures of their loved ones, which they can then click on to communicate with them immediately. Apple Watch's calling features will also now be available on twice as many carriers.
The speaker on the Apple Watch Series 4 has also been redesigned, and is 50 percent louder. The microphone was moved to the opposite side to reduce echo, and radio waves can now go through both the front and the back of the gadget, leading to better cell reception.
Apple Watch Series 4: It Looks A Little Different
The Series 4 Apple Watch will also look a little different. The watch face is customizable, so you can choose to add things to it like different time zones, travel boarding passes, your fitness info, and more, right on the main screen of the device. There are also general display themes, including a fire face display, one of water, or a vapor display.
There are so many other new features on both the outside and the inside of the new Apple Watch Series 4, including a 64-bit processor that will result in performance that is up to two times faster. The smartwatch will be available in three different aluminum finishes: silver, gold, and space gray.
The Apple Watch Series 4 can be ordered via 34 carriers starting Friday, Sept. 14. and will be available a week later, for $399, or $499 for cellular, and the Series 3 will be knocked down in price to $279.