New Apple Watch Series 4 Images Show Why You'll Need the Bigger Screen
Apple's new wearable won't break the wrist, though.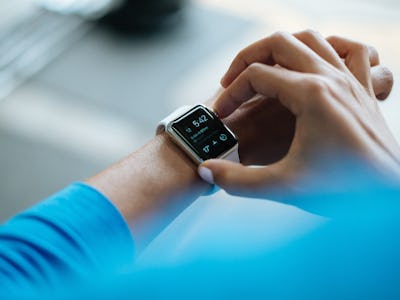 Unsplash / Crew
The Apple Watch is set to receive a bigger display, but it's not going to make the device any bigger. In the build-up to Apple's iPhone event, leaks have revealed how the company plans to introduce new screen sizes for its fourth-generation smartwatch, retaining the same design while increasing usable space for more information.
New analysis from 9to5Mac on Wednesday found that the larger 42mm version of the Apple Watch will sport a screen of 384 by 480 pixels, compared to the current display with 312 by 390 pixels, discovered through analysis of the watchOS 5 beta updates. While current watches offer 326 pixels per inch, the site produced screenshots based on the assumption that the new watch will offer 345 ppi, resulting in a slightly denser pixel display in a screen around 15 percent larger. The screen change isn't expected to make the watch itself any bigger, instead making the bezels smaller, but the images show how the jump leads to an impressively large amount of usable screen real estate:
See more: Patent Filings Indicate the Apple Watch Is Getting a Long-Desired Feature
Apple's smartwatch has quietly cemented itself as a top seller. IDC stats show it was the best-selling wearable device of last year, outpacing Fitbit and Garmin to claim 21 percent share of the market in the fourth quarter with eight million shipments. Total sales are estimated around 46 million. Its subtle effect on modern society led to 67 percent of single Uber users claiming they would find it more attractive if their date was wearing a smartwatch.
Patent filings suggest Apple has further plans than just making the screen bigger. An application revealed earlier this week shows how the company plans to combat the worst effects of OLED screen burn-in, a big issue with high-end devices that use screens like the Apple Watch. Overcoming this barrier can open the way for Apple to roll out an always-on screen, meaning users won't need to flick their wrists to activate the device and check the time.
Apple is set to take to the stage at 10 a.m. Pacific time on September 12 at the Steve Jobs Theater in Cupertino, California. Alongside three new iPhones, Apple may also detail the upgrades to its smartwatch line.