Patent Filings Indicate the Apple Watch Is Getting a Long-Desired Feature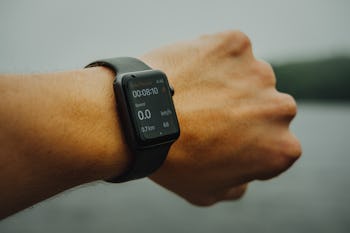 Unsplash / Tim Foster
Apple's signature smartwatch could be gaining a new feature that will make it a lot more like its analog predecessors, at least in terms of aesthetics. According to a recent patent filing, the upcoming Apple Watch Series 4 might tweak the face of the watch so that the time is displayed regardless of whether or not the watch is actually in use.
Up until now, users have had to lift or twist their wrist for the wearable device to present the time. But an application to the U.S. Patent & Trademark Office unearthed by Patently Apple on Sunday, suggests that the company maybe cooking up a way to let users see the time by simply glancing down at the Apple Watch instead of having to activate it.
The internet has dubbed this "Always-on Mode," thanks to Apple fans on Reddit who have long clamored for this rumored feature to make its debut. Two obstacles have thus far prevented this: battery life and the potential for screen damage. Apple's filing seems to address the latter.
We already have a pretty good idea that the new Apple Watch will feature an edge-to-edge OLED display that could be 15 percent larger than previous iterations, thanks to a major leak first published by [9to5Mac]. While these types of screens deliver the same eye-popping display as seen on the iPhone X, they are susceptible to discoloration, known as burn-in, if left on for too long.
The recently discovered patent filing doesn't necessarily present a cure for this issue, but it does propose a method of making up for it by adjusting the brightness and colors of certain parts of the device when needed.
"Organic light-emitting diode (OLED) displays — which are becoming a popular choice for computing device displays — can degrade in a non-uniform manner over their lifespans and lead to unwanted color/brightness artifacts," states the document. "To address this concern, burn-in statistics — which record historical usage information associated with a given OLED display — can be used to artificially adjust the operation of the OLED display to substantially restore visual uniformity throughout its operation"
In theory, this patent sure seems like it's meant to help solve the burn-in issue, but the filing fails to mention the battery life problem that could arise if the Apple Watch display was constantly on. However, currently available versions of the device come with a low-power time display, which could be tweaked and used to assist "Always-on Mode."
But don't get too hyped for this feature just yet. Seeing as the 2018 iPhone keynote will be going down in a week and this capability is just now being patented, it likely won't make an appearance come September 12. We'll likely have to wait until a mid-year Apple Watch update or until next year's big hardware launch.