Wi-Fi 6: What to Know About 802.11ax, the 5G-Like Future of Internet
The technology is about to make a big splash.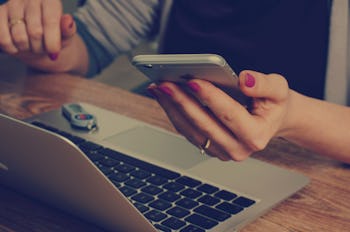 Unsplash / William Iven
There's a new version of Wifi coming, and this one has an easier-to-remember name. "Wi-Fi 6" ditches the confusing classifications of yesteryear, a standard that would have otherwise been known as "802.11ax." It's fast, it has a higher range, and it takes on some of the best lessons of 5G.
"5G is the new industry standard for cellular networks, and Wi-Fi 6 is the new standard for those Wifi networks found in businesses and hotspots around the world," Greg Dorai, Vice President, Product Management and Strategy, Enterprise Infrastructure & Solutions, Cisco, tells Inverse. "Both of these new standards represent a quantum leap forward by delivering dramatically higher speeds, lower latency and greater density. This will allow businesses and consumers to do things unimaginable on previous Wi-Fi iterations."
The technology has companies excited. On Monday, Cisco announced new Catalyst and Meraki access points and a Catalyst 9600 core switch, network hardware all designed to support the new standard. The company's Open Roaming project, which aims to make it easier to switch between cellular and Wifi and to join public Wifi networks, also added Samsung, Boingo, GlobalReach and others to its roster.
"Today, when you go into a Starbucks, you need to manually log onto that wireless network," Dorai says. "We believe there's an opportunity to make the handoff between mobile and Wi-Fi network seamless and secure."
Wi-Fi 6: What Is It?
You may be familiar with previous iterations of Wifi, known by the IEEE's standard number "802.11" followed sometimes by a letter like "b," "g" or "n." The consortium behind the standard simplified this in October 2018, so the older "n" standard is now "Wi-Fi 4," the most recent "ac" standard is "Wi-Fi 5" and the upcoming "ax" standard is "Wi-Fi 6."
This new version makes a number of changes to make connections faster. Where Wi-Fi 4 can reach a maximum theoretical speed of 600 megabits per second and Wi-Fi 5 can hit 1.3 gigabits per second, Wi-Fi 6 offers bandwidth that can reach 10 gigabits per second. It's important to remember that speeds are typically measured in bits rather than bytes, so because there's eight bits in a byte you're actually looking at speeds of 1.25 gigabytes per second.
Beyond higher speeds, Wi-Fi 6 brings a number of benefits to the table. It has low latency times of under one millisecond, enabling faster responses. That means it can use up less battery. It also uses something called deterministic scheduling to ensure channels are accessed on a millisecond-tight schedule, instead of the random approach used before.
Wi-Fi 6: Why Do We Need It?
The upgrade can make Wifi work better, particularly in crowded areas. Its faster speeds also enable high-data applications like streaming 4K video, or even 8K in the future. Game streaming like Google Stadia will also require these low-latency speeds, as will augmented and virtual reality headsets.
"With higher speeds and lower latency, it helps connected Wi-Fi devices preserve battery life," Dorai says. "For example, a crowded baseball stadium is filled with internet-connected devices, which leads to slow speeds and connection for fans, inhibiting their ability to share photos, videos and content. Wi-Fi 6 will significantly improve our connections and will preserve our phones' battery life because they won't need to struggle to remain connected."
Lower power usage also means better applications for the likes of Internet of Things devices. That could mean medical devices, or guided vehicles in factories, or perhaps even smart home equipment.
Wi-Fi 6: How Does It Compare With 5G?
Wi-Fi 6 shares similarities with 5G, the much-hyped next generation of cellular connectivity that's expected to offer speed boosts from 54 Mbps as seen on 4G to reach 1.4 Gbps on 5G.
Cisco explains that they both use similar radio signal encoding techniques to enable more users and get more data through the air. They also both use deterministic scheduling.
"5G and Wi-Fi 6 are complementary technologies," Dorai says. "5G is largely outdoors and mostly affects mobile devices outside of Wi-Fi networks. For example, anytime you're in the car or walking from the coffee shop to the office, 5G is going to keep you connected. But once you're in the office, you will keep that connectivity strength with Wi-Fi 6 indoors."
Wi-Fi 6: When Is the Release Date?
The consortium announced in January that it will start certifying devices in the third quarter of 2019. When you'll be able to actually buy a device depends on the manufacturer — Barclays analyst Blaine Curtis said in January that it could come to the 2019 iPhones, which are expected to launch in September. Netgear's mesh Wi-Fi 6 routers are set to launch in the second half of this year.
Some devices have already made their way to the market, like the Samsung Galaxy S10 smartphone that released in March. It's unlikely to offer any tangible benefits until you get connected to a Wi-Fi 6 router, but when the switchover comes, you could be among the first.