Forget 4K TV: Japan Just Switched on 8K
That's 16 times the resolution of full HD.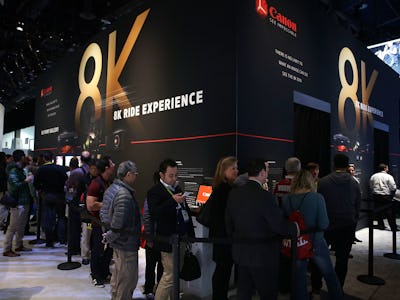 Getty Images / Alex Wong
Remember when high definition was all the rage? Well, get ready to feel old. Japan's NHK broadcaster has flipped the switch on the world's first 8K television broadcasts. Starting Monday, NHK will transmit a new satellite channel, airing 10 a.m. to 5 p.m., that shows a mix of 4K and 8K content.
The problem is, there's no way for people to watch NHK's new channel in all its glory at home. The equipment simply isn't available yet. To remedy this, PC World reported that NHK will host public viewing areas around Japan. At the end of this week, the 2016 Rio Olympics will kick off, and the broadcaster will use these viewing areas to demonstrate footage.
For those unfamiliar, 4K and 8K are resolution standards that indicate how many pixels a screen has. Where 1080p (or "full HD") is defined as 1920x1080 pixels, 4K Ultra HD is 3840x2160, with four times more pixels. 8K Ultra HD blows this out of the water, though, with a staggering 7680x4320. That's 16 times more pixels than 1080p.
The early channel will serve as a testbed for broadcasting the 2020 Tokyo Olympics in the highest quality possible. NHK has a history of pioneering cutting-edge technologies, switching on high-definition broadcasts way back in 1989. 8K is a goal NHK has been working towards for a while: the broadcaster first demonstrated the resolution back in 2002.
So further down the line, what else could early adopters hope to watch on their future new screens? Er, not a lot. It was announced back in January that Guardians of the Galaxy Vol. 2 would be the first movie shot with RED's new "8K Weapon," a camera that captures 8K pictures at 75 frames per second. It may be more of a style issue, however: the first Guardians of the Galaxy was a CGI-laden affair, and it's likely the sequel will continue this. Shooting at 8K means being able to maintain high quality even at 4K, considering the amount of modifications and changes to the original image.
Even 4K is still in its infancy. Netflix and Amazon Video are starting to stream 4K footage, but it's still hard to find content. The Xbox One S will serve as a cheap Ultra HD Blu-ray player, but won't play games anywhere near that resolution. Both Sony and Microsoft are expected to bring out updates to their existing consoles to push those extra pixels, but it's safe to say that 4K won't hit the mainstream for quite some time. Don't start saving for an 8K TV just yet.