Is Sony's 'Ultra' 4K the Future of Watching Movies?
Price, biology, and trends all factor into the answer.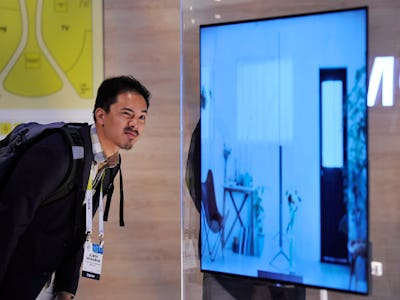 Getty
Sony launched its 4K movie streaming service, Ultra, today, giving people who own a Sony 4K TV a fat stack of Sony-produced titles to watch for a hefty price.
Ultra was announced in January at the Consumer Electronics Show along with a whole line of Sony 4K HDR TVs. As promised, Ultra is only available on Sony's 4K devices.
"Ultra takes advantage of the latest industry innovations — 4K resolution, high dynamic range, a wider color spectrum, digital movie extras, and UltraViolet interoperability — so viewers get the most out of their televisions and their movie collections," Jake Winett, vice president of consumer services at Sony, said in a statement.
Ultra offers around 50 movies produced by Sony Pictures and Columbia, including titles like Concussion, Total Recall, and Men in Black one through three. Viewers must make their choice wisely though: Each movie costs $30 to buy, and renting is not an option.
But is laying down the dough for a Sony 4K TV, and then $30 for every movie, even worth it?
First off, no matter how advanced the technology gets, the human eye can only do so much. Average vision (or corrected average vision) is 20/20. A person with 20/20 can only see a certain amount of detail at each distance. In essence, this means the farther away you sit from the TV, and the smaller that TV is, the less it matters how minutely detailed the image is.
The common 1080p HD setting viewed from a distance of around eight feet would be the same viewing experience as watching a 4K TV from around four feet. Moving the couch closer to the TV is one way to take advantage of the full 4K benefits, as is getting a giant TV. While 4K has quadruple the number of pixels as 1080p, that's a fair amount of work on the viewer's end to make those pixels worth it, as seen by the graph below.
People who love new technology (and the promise of new technology) will still purchase 4K TVs, though, despite biological limitations. Sony 4K TVs run anywhere from $800 for a 43" (small enough to cause the above visibility problems), to $5,500 for a 65". Add on the cost of owning a movie collection, and the whole 4K viewing experience drifts out of reach for much of the population.
Both Amazon and Netflix offer 4K video to their users, as well, but at a much lower price point. Amazon Prime subscribers can stream 4K at no extra cost, and Netflix bingers get 4K for just $2 more per month. When Winett was asked why Sony decided to sell movies instead of rent them out like their 4K competitors, he said it was "a commercial decision" that could change if there is consumer demand.
Commercial potential, not the end-user experience, seems to be the major factor driving Sony's 4K services. They are a for-profit company, after all. It's a major cash grab for Sony to have people commit to only buying 4K Sony Pictures-produced movies for their Sony 4K TV.
The 4K experience is inaccessible to people who watch movies on their iPads, laptops, and phones. An increase in the percentage of people who watch TV from portable devices has already led to a decrease in TV ratings. It only makes sense the same change will be seen in the mass movie market.
In that sense, Sony must know that it's marketing to a shrinking audience of TV buyers.
Still, since the latest films cannot be fully enjoyed in all their glory on a puny screen, the company looks to be hanging its strategy on the fact that TVs will always be needed for a true in-home cinematic experience. And since Sony's done its best to bring only the finest in pixel-packing quality to its movie service, Ultra looks more poised to be a bigger player in a niche market than anything else. Stay tuned.