Microsoft Unveils the New, Slimmer Xbox One S
The new Xbox One is 40 percent slimmer than the previous model.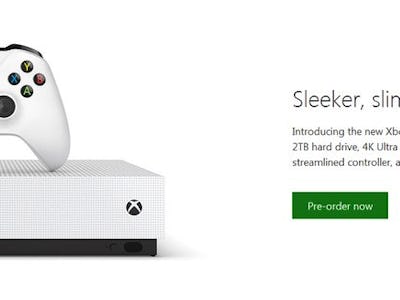 Microsoft
Rumors swirled around E3 that both Sony and Microsoft would unveil updated versions of their current gaming hardware. Sony confirmed the news, although announced the new Playstation 4 will be skipping E3 this week. Not so with Microsoft. Prior to their E3 conference tomorrow, Microsoft's new console, the Xbox One S, has been leaked online.
NeoGAF users have revealed early looks at the slimmer, more powerful console. The details list the new console as being 40 percent slimmer than the current iteration of the console. Not content with just an aesthetic overhaul, reports are coming in that Microsoft will be introducing the Xbox One S with a 2TB harddrive, a massive improvement over the original's 500 GB. The biggest improvement could be the support for 4K video playback along with High Dynamic Range, or HDR. The most persistent rumor coming out of the news there will be updated hardware from both Sony and Microsoft is that the new consoles will feature 4K video playback. That the new Xbox One S will support the video format is a good indicator that Sony's new Playstation 4 will follow suit.
The streamlined console sports a new "vertical stand" so the lighter console can stand in an upright position. The previous Xbox One was so big and heavy, that it was unable to be placed in any position that wasn't flat on its surface.
There are also reports that the new console will sport a "streamlined controller", though there's no details on what that actually entails. The promotional images show off a brand new, all-white console and controller however, along with the stand that allows the console to sit vertically.
While currently all the details here are unconfirmed, the information matches a lot of the predictions leading up to E3. There will be an official confirmation on the Xbox One Slim tomorrow at Microsoft's E3 conference.