iPhone 5G: 2020 iPhones Rumored as Undergoing a Radical Next-Gen Redesign
Big changes are just over the horizon.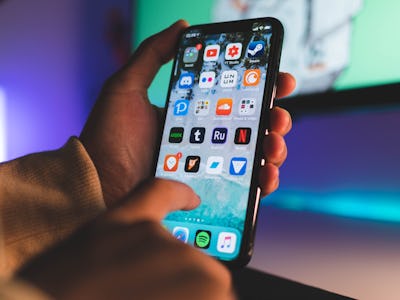 Unsplash / dhe haivan
Apple has a massive overhaul planned for its 2020 iPhones, exciting news for Apple fans who have grown used to hearing that the iPhone is in a "transitional year," with the most exciting developments further down on the horizon. As with last year's XS series, the iPhone 11 (or XI) is expected to introduce mostly marginal improvements that mostly affect performance speeds and the camera.
2020's iPhone roster is expected to be a great deal more exciting, according the latest note from the Apple analyst Ming-Chi Kuo. According to Kuo's latest analyst letter, Apple plans to introduce new size variants, 5G support, and some other cutting edge specs.
For starters, it looks like Apple will experiment a great deal with the display size. While the largest iPhone will get even larger, it's less clear that bigger will always be better with this lineup, and Kuo thinks that the smallest model will get even more compact. He also revealed that while 5G will indeed be introduced as part of the 2020 iPhone roster, not all of the devices will support the next-gen wireless infrastructure.
The analyst has sources in Apple's Asian Pacific supply chain and his notes are usually circulated widely in the tech press due to their frequent reliability. Kuo's latest note was shared directly with Taiwanese media outlets and subsequently republished by MacRumors on Monday.
Here's are the major iPhone changes that were confirmed and predicted by Kuo:
iPhone 2020: New Screen Sizes and All-OLED Displays
The 2020 iPhones are still expected to come in three differently priced variants, just like last year. But they will also come in vastly different sizes. Kuo expects Apple to release 5.4, 6.1, and 6.7-inch size variants next year, with the 6.7-inch model claiming the title for the largest-ever iPhone screen.
The 2020 trio is also anticipated to have OLED displays across the board, meaning that even the so-called budget variant will have a much brighter and more vivid screen than its LCD-toting predecessors. Individual pixels on an OLED screen can also be switched off, offering deep-black hues without any backlight illumination.
Currently, the company sells two 6.5 and 5.8-inch OLED-screen models and a 6.1-inch LCD model.
"We expect that the new 2H20 iPhone lines will include the high-end 6.7-inch and 5.4-inch OLED iPhone models and the low-end 6.1-inch OLED iPhone," wrote Kuo.
It's unclear what, exactly, will make the 6.1-inch iPhone low-end, as the LCD screens have Apple's preferred recourse for lowering costs. But the display lineup does seem likely, Kuo's predictions mirror a series of leaked rumors published in an April 2 DigiTimes report. These early predictions might be subject to change in the months to come, but the fact that Kuo's note aligns with an earlier report suggests Apple is close to cementing its plans.
iPhone 2020: 5G Support and Beyond
One strong possibility for what will determine the respective iPhones' costs?
Kuo now predicts that only two of the three 2020 iPhones will support 5G: the 5.4-inch and 6.7-inch models. The 6.1-inch model, by contrast, will come with a LTE modem and won't be able to access the high-speed broadband technology. This would make a lot of sense, as it would allow Apple to keep an iPhone XR-priced model in the lineup while completely phasing out the increasingly cheap-feeling LCD screens.
Kuo expects the tech giant to sell all-5G iPhones by 2021 and that the company will be begin manufacturing its own 5G modems between 2022 and 2023. By that point, Apple will have completely phased out its reliance on Qualcomm modems.
A major iPhone redesign seems set to coincide with Apple's roll out of 5G technology. The iconic smartphones might take a completely different form over the next year, even if the 2019 iPhones look like they'll mostly offer more of the same.