iPhone 2020: Price, Specs, Release Date for Rumored Fourth Budget Variant
Could this be the budget iPhone fans have been waiting for?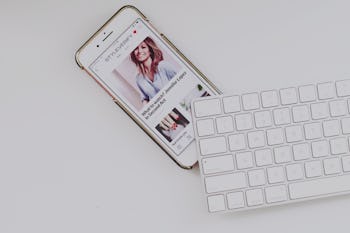 Unsplash / The Girlloop
Since the launch of the iPhone X in 2017, Apple has made it a habit of releasing three iPhones during each cycle. The 2019 iPhones are expected to follow the same formula. But Apple is expected to seriously change things up in 2020.
In addition to the first 5G-enabled iPhone, Apple is also expected to release a mid-range phone that takes inspiration from the iPhone 8's design. This new budget iPhone would be even cheaper than the iPhone XR, reported Taiwan's Economic Daily News last week. In the report, anonymous sources told EDN this budget variant would be a 4.7-inch LCD iPhone aimed at users who found the $749 XR too pricey. Because of how successful the iPhone XR was, Apple analyst Horace Dediu told Inverse he thinks Apple will up its lineup to four unique variants.
"I don't think it has anything to do with the XR," he said. "The XR is such a successful product that I think it will remain in production with spec upgrades. I suspect any 4.7-inch product will be slotted as a lower-priced midrange product."
In other words, the long heralded "budget iPhone" might actually come to fruition. But instead of being modeled after the iPhone SE, it might be a hearken back to a more recent design. Here's everything we know about the reported resuscitation of the 2017 iPhone.
New iPhone 8: Price
The translated EDN report did not state the new iPhone 8's price, just that Apple will target the "middle-end market," which usually refers to prices in the $400 to $700 range.
If Apple does indeed plan to continue offering the iPhone XR with improved specs, this new variant might even be under $600. After all, a $650 iPhone would only be $100 less the iPhone XR, which packs a much larger, 6.1-inch display. Consumers will be looking for more of a bargain to forego all that extra screen space.
New iPhone 8: Release Date
The EDN report only says that the renewed iPhone 8 will hit shelves in 2020. But other outlets have suggested that this new budget variant will not be introduced alongside the rest of the iPhone roster during Apple's traditional September hardware event. Both DigiTimes and MacRumors speculated that Apple would instead release its mid-market smartphone in March. It's worth noting, however, that this would be a big departure for Apple.
DigiTimes and MacRumors are likely basing their assumptions on the only iPhone that Apple has ever released in March: the iPhone SE in 2016. There are similarities between the two products, the 2016 iPhone SE was essentially the iPhone 6S's internals repackaged in an iPhone 5S's body. But the iPhone SE was also a flop, and Apple's March event is now devoted to showcasing services. The 2020 iPhone event seems more likely.
New iPhone 8: Design and Specs
EDN calls the 2020 iPhone 8 an "old bottled new wine," because it will reportedly package Apple's latest processor inside of the iPhone 8 chassis.
Every year Apple releases a new chipset for its smartphones. Last year it was the A12 Bionic, which is capable of performing 5 trillion operations a second. This year Apple is expected to bring the A13 Bionic and, in theory, the 2020 iPhones would pack something like the "A14."
Depending on when the revived iPhone 8 launches, it could tout either the A13 or A14. Seeing as it will be a budget model, both DigiTimes and MacRumors speculate that it will come with the A13. That would still provide next-generation power in a small, affordable device, which could be tempting to consumers.
New iPhone 8: Features
EDN doesn't go into much detail regarding other features, but a single rear camera, 64GB of internal storage, and an LCD display would make the most sense for the model.
Currently, the XR comes with a single rear camera, an LCD screen, and its cheapest variant starts at 64GB. Seeing as the new iPhone 8 would be lower-cost than the XR, it seems improbable that any of these aspects would be upgraded in a cheaper phone.
Other 2020 iPhones
The iPhone 8's comeback would also be accompanied by three other phones all packing the latest specs, according to other reports about the 2020 roster.
This is according to an April 2 report from DigiTimes which says that Apple will still release a flagship trio in 5.42-, 6.06-, and 6.67-inch display variants compared to this year's 5.8-, 6.1-, and 6.5-inch lineup. This is one reason why DigiTimes likely thinks that the fourth 2020 variant will be released in March, as its sources made no mention of a fourth budget iPhone.
It is clearly still too early to say anything definitive. It also seems possible that, by departing from its convention of having three successively larger and more expensive displays, that sources in the supply chain or analyst community are more likely to get confused. Still, there's now early evidence of even more, and even cheaper, budget iPhones on the horizon. Fans are sure to be excited.