iPhone 2020: Smaller iPhones Are Apple's Most Brilliant Decision in Years
Bigger isn't always better.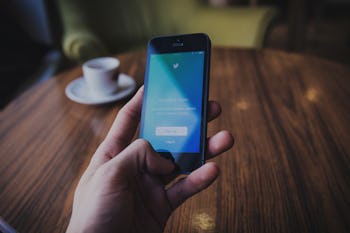 Unsplash / freestocks.org
iPhones have consistently gotten bigger and bigger. The first-generation iPhone display was only 3.5-inches across diagonally. Within a decade, iPhone screens have nearly doubled in size, thanks to the introduction of the 6.5-inch iPhone XS Max. For Apple, and for many smartphone customers, more screen has always been better.
But for many consumers, the converse was also true: Less screen meant lesser specs. This inevitable trade-off may finally go away starting in 2020, when Apple is expected to release a premium, 5.4-inch OLED iPhone in place of the 5.8-inch model it introduced with the iPhone X, according to trusted Apple analyst Ming-Chi Kuo. This will actually be the smallest screen Apple has released since launching the iPhone 8 in 2017 (it's even a bit smaller).
Part of this is because Apple can simply do more with less. Apple has advanced its display technology to bring the iPhone's screen closer to the edge of the device and eliminated the home button entirely. The 5.4-inch 2020 model, then, could end up only slightly larger than the original iPhone SE (but with vastly more display).
As you can see in the above mockup by Swedish graphic designer Max Rudberg, thanks to its reduced bezels, the 5.4-inch flagship offers roughly the same amount of screen as the iPhone 8, but in a device that's the same size as the iPhone SE. In short, this could be the compact smartphone that countless fans Apple fans have been begging for.
Despite the apparent wisdom of developing such a model, Apple's strategy actually cuts against industry trends.
iPhone 2020: Phablets Are Dominating
Phablets, or phones with 5.5-inch displays or larger, will soon dominate the smartphone market if they aren't already. Plus-sized handsets are already expected to outsell smaller phones this year, according to the International Data Corporation. This push toward larger phones means swaths of consumers needing upgrades will be pushed to devices they can't comfortably hold.
That population may be larger than the phablet proponents think.
British feminist activist and journalist Carline Criado Perez, told The Telegraph that she suffered from repetitive strain injury (RSI) — hand tendon inflammation from repetitive tasks, such as typing, clicking a mouse, or writing — until she switched from an iPhone 6 to an SE.
Turkish writer Zeynep Tufekci also wrote that while she prefers iPhones because of their privacy features, the company's latest models are simply too big for her hands.
"'Welcome to the big screens' says Apple and women like me with small hands who need the most secure phone for safety reasons are stuck with something they can't hold and constantly risk dropping," tweeted Tufekci.
The 5.4-inch 2020 iPhone will address a market that's feeling neglected by the phablet trend. Not only that, the phone is also expected to tout cutting-edge specs, consumers won't need to sacrifice performance for size.
With the complaints of the small-handed being duly addressed, Apple also frees itself to make its biggest iPhones even bigger. And it reportedly has plans to do just that.
iPhone 2020: Big iPhones Aren't Going Anywhere
Kuo also thinks that the company will release a 6.7-inch OLED successor to the XS Max in 2020. That would be the largest iPhone screen ever, a whopping 1.3-inches larger than this year's 5.4-inch variant.
In short, phablet fans will continue to have iPhone options.
iPhone 2020: This Could Be a Winning Strategy
Apple's reported plans to make its smallest phone smaller seems counter-intuitive to big display enthusiasts. But cutting against industry trends is also helping it fill a need.
Samsung's latest S10 phones mirrored Apple's 2018 sizing strategy, with a 5.8-inch device serving as the smallest in the bunch. A gargantuan 6.7-inch Galaxy Note 10 in August will likely finish off its yearly smartphone cycle.
It's too early to say if tech companies will continue leaning into phablets in 2020. But if you're looking for the latest specs in a compact package, there won't be many places to look. Apple's heard your complaints.