iOS 13: 10 of the Best Privacy Features Coming to iOS 13, WatchOS 6, & More
Keep your personal data on lock.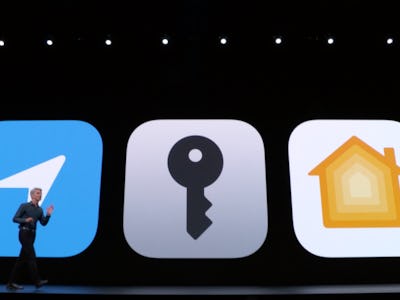 Apple 
Apple has been increasingly emphatic about its privacy initiatives, declaring on its website that "privacy is a fundamental human right." Its reputation for privacy is not unearned, Apple has fought to maintain user privacy even when the FBI comes calling.
Privacy was naturally front and center on Monday at the company's annual Worldwide Developers Conference at the San Jose McEnery Convention Center, where Apple traditionally announces upcoming software products, updates, and developments. To put further pressure on its increasingly scandal-plagued rivals, many of the most notable upgrades centered user privacy in some interesting and novel ways that go well beyond Apple's privacy-related chest bumping.
Below are ten specific examples of how Apple is improving privacy in 2019 with watchOS 6, iOS 13, and HomeKit Secure Video.
10. A Noise App That Doesn't Record Audio
"Always listening" devices like the Google Home Mini or Amazon Echo Dot have raised privacy concerns. One would think this could potentially apply to the Apple Watch's new Noise app, which is also "always listening" to monitor the decibel levels of your surroundings. But as Dr. Sumbul Desai, Apple's VP of health, explained, the app "only periodically samples and does not record or save any audio."
9. HomeKit Secure Video
HomeKit Secure Video is a new service that analyzes video from smart home devices like security cameras locally before then encrypting and uploading them to iCloud. This means that not even Apple is able to see the footage. This will prevent the data from being used for unintended purposes by third parties, such as training facial recognition programs if your security or wireless provider is targeted in a hack.
8. Find My
Apple also introduced Find My, which uses other iPhone users' bluetooth signals to find your phone or computer, even if it's not receiving a signal. Find My does this by accessing the network of Bluetooth wireless beacons that are meshed across millions of iPhones in a process Apple says is "encrypted and anonymous". Third-party Bluetooths are notoriously vulnerable, and in the past, bugs such as [BlueBorne](https://en.wikipedia.org/wiki/BlueBorne_(security_vulnerability) can allow someone to take control of a person's device through their bluetooth and access or steal their data.
7. App Location Transparency
Starting in iOS 13, your iPhone will start to generate reports on app tracking activity, so you can see what apps are trying to access your data. This will make it much easier to peek behind the curtain at programs that regularly run on other devices and platforms.
6. App Location Permissions
Location tracking often runs constantly in the background, depending on what apps you have open. Data brokers or other entities use this tracking to not only map where you've been, but even predict where you might be at any given point and time. To combat this, Apple introduced a setting where you can allow an app to access your location once, as opposed to indefinitely. Under this setting, if the third party wants your location again, it has to be given permission again. Apple will also let you know if apps are trying to access your location, giving you an opportunity to update your settings if needed.
5. Voice Control
In an accessibility breakthrough, iOS 13 will let users control their devices entirely through voice control for the first time. These voice commands will also only be processed locally, rendering them inaccessible to cloud hackers trying to train voice impersonation technologies.
4. Wi-Fi and Bluetooth Location Privacy Enhancements
Many WiFi vendors offer location-based services (LBS). Using triangulation, signal strength, and other techniques, they can pinpoint your exact location, often without your consent. Bluetooth beacons perform a similar function, and though this requires consent, it's often buried in dense terms-of-service agreements. Apps uses this information to find out where you are, but Apple's new iOS will prevent apps from using this data to determine your location.
3. Updated Kids Category Apps
Apple will now block location tracking on apps in the Kids category. It officially updated it's policies Monday, banning the use of embedded trackers in this category of apps, with the new language stating that "Apps in the Kids Category may not include third-party advertising or analytics."
2. Sign in With Apple ID
In one of the more direct shots at Facebook and Google — and one of the most notable new features of the entire conference — Apple introduced a new feature called "Sign in with Apple ID" that allows you to sign in with just your Apple ID, only sharing your name and email. You don't have to fill out any forms, create a new password, or offer up other identifiable information. This is a pretty big deal.
People often use one click logins like those offered by Facebook and Google because of their ease, but the cost is sharing your information such as gender, age, full name, and other personal data, far and wide across the internet. That data is then picked up by third parties and can be used to make shadow profiles of you which are then sold to advertisers, but can also impact other areas of your life without you knowing.
1. Sign in With Apple ID - Hide My Email
Sign in With Apple ID has other notable features of its own, including the ability to withhold your personal email from a third party. You can turn on a setting that generates and then assigns a random email address to you that will auto-forward any emails from the third party to your real email address, without them having your actual email.
There were also privacy oriented aspects of iOS 13 that weren't explicitly announced at WWDC, and were in part improvements on existing features.
Mail, for example, is getting a new "Block sender" function will allow you to block all incoming mail from someone and move the messages directly to the trash. Apple is also adding weak password warnings, and advanced location controls for shared photos, which will allow you to choose whether to share your location when you post a photo on social media. Finally, enhanced anti-fingerprinting protections in Safari increase your privacy by making it harder for advertisers and others to track you through your browser actions.
While many of these features are notable and may deliver benefits to a lot of users, it's important to note that Apple can't rely on expensive smartphones to anchor its profitability forever. At WWDC 2019, however, Apple started to make a compelling case that its privacy protections alone are worth paying top dollar for.