WWDC: 11 Ways Apple Is Taking Aim at Google and Facebook With iOS 13 in 2019
WWDC felt a little hotter this year. Maybe it's the privacy. Maybe it's the competition.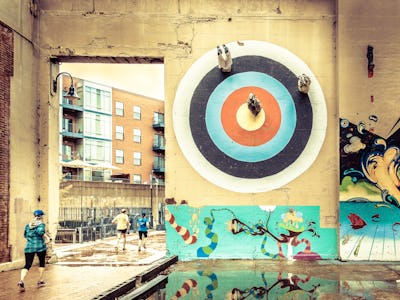 Flickr / Mobilus In Mobili
If you've been paying attention to consumer technology over the past several years, you'd notice that Apple's Worldwide Developers Conference on Monday in San Jose was been jammed with not-so-subtle digs at its primary competition: Google, Facebook, Amazon, and even Snapchat.
There were stark on-screen comparisons, winking ad-libs, smug references to "the other guys," and implications of a world that's less private and less safe outside Apple's walled garden. There was even an attack on Bitmoji, the cute sticker app now owned by Snapchat but founded way back in a more polite era of the internet — 2007 — in a decidedly well-mannered city: Toronto.
To put it another way, WWDC usually feels tame and very commercially focused. After all, it's geared toward developers who all want to make a billion dollars with an app or game or service for iPhone users. But the 2019 edition felt newsier, bigger, heavier than previous years, probably because of Apple's renewed, maybe a little cynical, focus on privacy, and also probably because of the increasingly competitive smart phone market.
Here's a rundown of just a few of the ways Apple will go after its competitors in 2019, based on the new feature debuts announced on Monday.
11. Apple Maps is Going After Google Street View: "Smoothly move down the street. Bet you haven't seen it look like that before," said Apple executive Meg Frost, as she smoothly scrolled a Street View-like feature in the newly robust, upgraded Apple Maps, informed by "hundreds" planes and cars that have captured new data. "With 'Look Around', I get a gorgeous high-definition, 3D view. It's an awesome way to explore.
10. Swipe texting on iMessage: So, this is a feature that's been around on Android phones for years. If you've switched between iPhone and Android — maybe a reaction to Apple's stagnating tech and rising prices in the last few years — you might've played around with swipe-texting before. While Android phones have had swipe-to-text capability for nearly a decade, the experience hasn't always been great. One has to think the swipe functionality for iOS 13 will be decidedly Apple, meaning smooth. To paraphrase Steve Jobs, it will probably "just work," not something that could be said of Android tech over the years.
9. "Dark Mode" is already out for the Android Q operating system, but it's coming to iPhone in September with iOS 13. Apple executive Craig Federighi swiped through his phone during an oddly sexed-up live demo: "Look at that, the gorgeous dark wallpaper. The notifications look great. Let's take a look at our widgets … just awesome." Apple's design resistance to dark mode has officially crumbled.
See also: Android Q Beta Features: 5 Hidden Changes You'll Definitely Want to Use
8. Apple Goes After Nest (Google) and Ring (Amazon): HomeKit — Apple's program to connect third-party, wifi-connected devices — will now connect to front-door cameras with a feature called "HomeKit Secure Video." The video of whoever is at your front door won't be analyzed on the cloud, but instead will be sent to your iPad, HomePod or Apple TV, Federighi said, where it will be encrypted and then sent to iCloud. Google-owned Nest states on its website that it protects video with HTTPS and Transport Layer Security, but not encryption. For Amazon-owned Ring, the news has been worse: The Intercept reported in January that bosses at Ring had the "sense that encryption would make the company less valuable." The first front-door cameras that will work with HomeKit's encrypted video will be made by Netatmo, Logitech, and Eufy's security division.
7. Reminders Get a Major Upgrade: Google Calendar is a natural choice for many users because many have Gmail, which is full of dates you need to be reminded about. But Apple wants users to switch to its own calendar and accompanying Reminders app. "We've completely rewritten the app," Federighi said. The complete overhaul makes it feel like a real competitor to Google Calendar.
6. Siri Takes After Google: A new feature to Airpods will be the ability to instantly listen to and respond to text messages you receive while you're wearing them. Google already has this feature with its Pixel buds, and it's great. Apple must've noticed, too, because the feature is coming to Airpods with iOS 13. Stacy Lysik, Apple's Senior Director of OS Program Management, put it this way: "Just like that, Siri helps you stay in the moment." What wasn't said is that Apple is playing catch-up here.
5. Memoji Avatars: Apple introduced Memoji avatars, which are a director competitor to the beloved Bitmoji, the customizable avatars made by Bitstrips, a company purchased by Snapchat in 2016. Just like Bitmoji, you'll be able to select from a menu of Memoji avatars from within the keyboard. This does not look good for the Bitmoji. (Damnit. Bitmoji are just lovely.)
4. Delete Your Duplicate Photos to Save Space: One of the best features of the Google Pixel is the Files app that helps you "clean up" — delete — files taking up space on your phone. One day you'll get a notification that memes are taking up space, for example. Another day, you'll be asked if you want to delete duplicate photos. With iOS 13, that artificial intelligence-based feature comes to iPhone. How to browse photos is "our biggest change this year," Federighi said.
3. Sign in With Apple: Signing into an app with your Facebook or Google account has its clear advantages: It's faster, you don't need to remember a new password, and it keeps your apps under the same account. The trade-off — Google and Facebook can track your use of the app and the app gets access to Google and Facebook data — is becoming increasingly scrutinized as the picture of how our personal data is sold becomes painfully clear.
Apple knows people are distrustful of what data is being scraped and bundled and sold, and the company is seizing the opportunity to reinforce its position as a privacy-first company. CEO Tim Cook has put it this way: "You are not our product. Our products are iPhones and iPads. We treasure your data. We want to help you keep it private and keep it safe."
With iOS 13, comes Sign in With Apple, a new feature that allows you to use your Apple account as your log-in, and your data isn't shared. You're also able to set up a random, proxy email address that forwards to your real address, to keep your real email shielded from marketing emails.
2. So Long, Location Data: Look, apps track your location, even when you aren't using them, or they do it secretly without permission. It's maddening if you stop to think about it. It is another example of technology run amuck, used by app developers to create more robust data sets that can be used to raise more money from investors or sell in the aggregate. Location data can also be used for good, like to improve an app, but the growing number of negative examples, and the feeling you're being spied on, should have anyone who's paying attention shook.
iOS 13 has improved notification settings to let you know if and when an app is tracking your location. It's another example of how Apple is inserting itself between you and non-Apple apps in the name of protecting your privacy. For example, with iOS 13, Apple is going to force apps to ask you if the app can use your location every tim, if you so choose. Apple is also going to stop apps from scanning for bluetooth or wifi locations that can be used to indicate your location.
1. Send unknown callers directly to voicemail: One of the best features on Google Pixel is the ability to screen calls if you receive a call from an unknown number. Apple too is taking on the robocall scourge, but instead of using A.I. to screen calls for you,, it will "send unknown callers directly to voicemail."