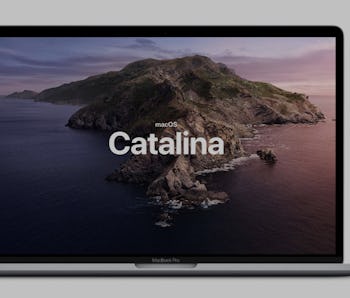 Innovation
MacOS Catalina 10.15 Announced: Here's What's New
Macs become a hub for all your Apple gadgets.
Apple
Apple's desktop and laptop operating systems are ditching the desert for sunnier climes. During the keynote of its 2019 Worldwide Developers Conference in San Jose, CA, the company revealed macOS 10.15 Catalina, named for Santa Catalina Island, the new operating system that will power its Macs and MacBooks for the next year.
As usual, software chief Craig Federighi took the stage to introduce the new era of Mac and MacBook capabilities. The new software will notably tweak long-standing apps, but also introduce a flock of programs that are entirely new to Apple's fleet of computers. The most notable changes include all-new iPad integration, voice control accessibility features, and much more.
Some of the changes represent bigger shifts to Apple's strategy, which is moving away from centering the iPhone. Notably, Catalina incorporates features unique to other devices for the first time, allowing macOS to serve as a hub for all of users' Apple devices.
Here are the most exciting changes coming to macOS Catalina.
5. Farewell iTunes: Hello Apple Music, Apple Podcasts, and Apple TV
One of the most notable changes? After 18 years, Apple has decided to split its multimedia players into a trio of different apps.
"The future of iTunes is not one app but three," said Federighi. "Apple Music, Apple Podcasts, and Apple TV."
This is a welcome change. What made sense as a program for early 2000s audiophiles to burn mixtapes has now evolved (devolved?) into a hodgepodge of video, podcasts, music, and other random stuff. To clean this mess up, Apple divided and conquered, using macOS Catalina to ship three pre-installed apps that each operate in their own lanes.
Apple Music will keep users' existing library while continuing to give subscribers easy access to its 50 million tracks. In their own app, podcasts will now be searchable by keyword — even keywords spoken by the hosts during the episode — and the new Podcasts app will keep track of where you left off on an episode across all of your devices. For its part, Apple TV will now serve as the video hub for HBO, Showtime, and other video content users watch on their laptop or desktops.
A pleasant side effect of the change? This all means that Apple users will no longer dread plugging their iPhones into their Macs.
4. Control Your Computer With Your Voice
Apple also made accessibility a central theme of the update. Starting with Catalina, Macs' trackpads, mice, and keyboards are essentially optional, and instead you will be able to be completely control devices with voice commands. The feature was introduced for users who can't operate traditional input devices, but this improvement will allow all users to operate their computer from across the room, say, or more quickly navigate to a tab.
This is all thanks to improvements to Apple's voice assistant, which are getting much better at understanding peoples' speech.
"It leverages the latest Siri voice recognition technology to precisely understand what you're saying," said Federighi. "All commands are processed locally so non of that audio goes to Apple."
3. Easily Track Down Lost Devices
In a feature that's sure to change the game for forgetful iPhone users, Apple will combine the Find My iPhone and Find My Friends apps into a single "Find My" app with new capabilities.
The new app will basically turn all Apple devices into Bluetooth beacons that can provide a live location of their lost device, even when said device is not connected to wifi or a cellular network. Previously, Find My iPhone would only give a device's last location based on when it was last used. Now, users can track their offline device based on how close it is to other Apple devices.
2. More Apps Than Ever Before
Apple's announcement saw the official release of "Project Catalyst," an effort that will lay the groundwork for merging the macOS and iOS app stores. The effort was codenamed "Marzipan" and will eventually let developers create apps that seamlessly work across Apple's desktop, tablet, and mobile displays. This will open the floodgates for extremely popular mobile apps that also work on desktop UIs.
Apps like Twitter, Instagram, and TikTok — which are now only accessible on iOS — will soon be easily converted to work on macOS. This way, users can browse their favorite social media apps using a cohesive experience instead of a disjointed desktop site.
1. Use an iPad as a Second Mac Screen
MacOS Catalina also introduced Sidecar, which lets users connect iPads to their Macs and use them as extended displays. This opens up unique creative and productivity use-cases for the laptop and tablet combo.
For starters, designers can use their iPads as a digital sketchpad while tracking their progress on a larger desktop screen. Video editors can open a new tab on their iPad and begin tweaking settings with the Apple Pencil, say, without having to close out of a separate tab on their laptop. This will all naturally greatly expand a user's screen real estate.
So when can you actually access all these features? As is usually the case, they'll roll out in waves. The developers beta for macOS Catalina shipped Monday, available only to members of Apple's developers program, while the public beta will be available in July. After incorporating all the feedback and bug reports from testers, a finalized version will be delivered to all Macs in the fall.