Apple October Event: Everything to Expect at This Week's Apple Announcement
What does Apple have up its sleeve?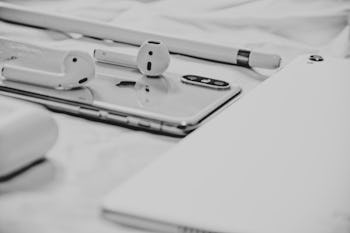 Unsplash / eleven x
Apple has made it abundantly clear that new iPad Pros will almost surely be dropping at the company's October 30 product launch. This announcement will come days after the iPhone XR hit shelves around the world, fully stocking Apple's product line for the holiday. But even more new tech could be on the way.
Invites for the New York City event went out October 19 and, as is custom, offered no details as to what Apple has up their sleeves. But hints from the invites, reliable leaks, and rumors that have been circling the event for much of the month suggest MacBook and Mac updates along with the release of the AirPower wireless charger.
Since the iPhone keynote only brought incremental iPhone updates and a new Apple Watch, fans of the Cupertino-based company will be looking something exciting to make up for what was ultimately a pretty sparse September.
Apple October Event: iPad Pro Redesign
Apple is expected to completely overhaul their high-end tablet. This will probably mean the home button will be replaced with Face ID, an improved screen-to-body ratio, a new Apple Pencil, the ability to output 4K HDR content, and the potential removal of the 3.5mm headphone jack.
Trusted Apple analyst Ming-Chi Kuo predicts that the new tablets will come with USB-C ports, a new Apple Pencil, and better screen. That's backed up by other leaks similar to Kuo's renders that were posted on leak aggregation site SlashLeaks. All of these updates would greatly benefit artists, designers, and creatives.
These speculations were furthered by Apple's artsy invites and the fact that Adobe announced a full version of Photoshop for iOS earlier this fall. Taken together, it seems all but certain that we'll see some new iPad Pros on stage October 30.
Apple October Event: MacBook Refresh
More affordable MacBooks could also make a debut. Days ahead of the announcement, MacBook registration numbers were spotted in the Eurasian Economic Commission. This could be a sign that Apple is gearing up to launch a $999 13.3-inch MacBook.
These findings bolster forecasts made by Kuo that Apple is cooking up a "low price" laptop. This could take the form of a MacBook Air priced as low as $899 or $799, low enough to compete with low-cost computers like the Chromebook, according to a DigiTime report.
Apple October Event: AirPower At Long Last
Hope for the eventual release of the AirPower is still alive and it's mostly being fed by Apple Easter eggs.
Hints of the delayed Qi-charging mat were included in the packaging for the iPhone XS, XS Max, and XR, as well as the iOS 12.1 beta update.
Apple announced the device back in 2017 when it launched the iPhone X. But design issues have set its launch back for over a year now. Could this be its big moment?
Apple October Event: Mac Updates
Apple's signature desktop computers could also get some love October 30. Products like the Mac Mini and iMac have been glaringly neglected by company for a few years now.
The Mini turned four years old in 2018 but has yet to receive any updates since its launch. For its part, the iMac has kept its same design since 2012, though it has since received a few changes under the hood. Fortunately, the wishes of Mac users could soon be answered.
The Mac Mini, which packs the power of Apple's desktops inside of a 7.7-inch box could receive big processor improvements and the iMac might receive a stunning new display. These predictions all come from Kuo. These changes could give MacOS users the power and display they need to work, browse, and play.