iPhone XR Packaging Hints at Apple's Future Plans for AirPower
Apple may release an update soon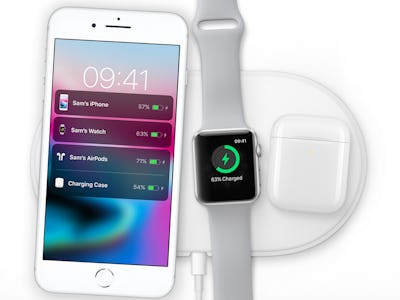 AirPower could be just around the corner, if Apple's latest packaging is any indication. Reviewers published their iPhone XR impressions on Tuesday, after getting to grips with Apple's $749 smartphone that hit pre-orders last Friday. Much like the iPhone XS that came out the month prior, the new phone seems to suggest that Apple's wireless charging pad is nearly here.
The mat was announced at last year's iPhone X announcement event, where Apple unveiled its first Qi-supporting devices, with the promise of charging three devices without the need to properly align them on the pad as with most Qi chargers. While initially announced for a 2018 launch, reports later emerged that Apple's plans posed an engineering nightmare, claiming the mat uses 21 to 24 coils in three groups with overlaps that kick up an unacceptable amount of heat. The report also claims that Apple struggled with the mat's custom version of iOS, designed to communicate charge levels, and achieving high levels of charging efficiency.
See more: Don't Wait for Apple's AirPower, This Wireless Charger Is All You Need
The iPhone XR's packaging suggests Apple's wireless pad may not be dead just yet. The iPhone XS included a leaflet that asked users to "place iPhone with screen facing up on AirPower or a Qi-certified wireless charger." Because the phone launched in the same month as the reports about AirPower's failures, there was speculation that Apple didn't have enough time to change the wording and the pad may still be dead. The iPhone XR packaging nearly a month later reduces the likelihood that the mention was a mistake on Apple's part.
AirPower is part of Apple's wider embrace of wireless charging. While the original Apple Watch used a magnetic charging system that sometimes worked with other Qi chargers, it wasn't until the iPhone 8, 8 Plus and X that Apple fully embraced the standard. The company announced plans to introduce an extension to the Qi standard to enable smaller devices to charge up with AirPower, teasing that an update to the AirPods headphones would embrace the new standard.
Apple is scheduled to host an event in New York on October 30, where it may announce updates for the AirPower project alongside expected updates to the iPad Pro.