Report Claims Apple's Wireless iPhone Charger AirPower Faces 3 Big Problems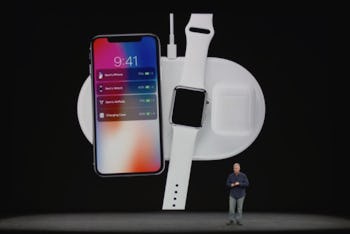 Apple
Apple's AirPower is in trouble. That's according to a report published Sunday, which claims that the wireless charging pad is experiencing delays due to a combination of heat issues, software flaws, and wireless interference. The pad was unveiled at the September 2017 iPhone X event with a 2018 launch date, but this looks increasingly in doubt.
The Sonny Dickinson report claims that Apple is struggling to fulfil the promises of the device, aimed at charging up to three products without requiring the user to correctly align them with the coils, unlike most other Qi-based chargers that use a single coil and require users to place them in a specific position. Apple's design uses somewhere between 21 and 24 coils, broken into three charging groups. These coils must overlap due to the relatively small size of the device, but Dickinson claims this is causing issues because the coils interfere with each other and reduce charging efficiency.
Apple's pad also faces problems because it produces far too much heat, affecting the performance of the built-in chip that runs a custom version of iOS designed to manage charging performance. The designers have also struggled to develop fully-functional software communication, used among other things for displaying on the iPhone the current charge levels of all three devices on the mat.
Apple adopted the Qi charging standard with the launch of the iPhone 8, 8 Plus and X. Users have been able to buy third-party chargers to charge up their phone in AirPower's wake, with Apple also working with Logitech on a single device $69 charging cradle. Not only did AirPower not appear at Apple's iPhone XS event last week, the company appears to have scrubbed almost all mentions of the product from its website.
The company has just three months to meet its 2018 release date. Should the product ultimately miss the shelves, it could prove a lesson in announcing ambitious products too early.