Apple and Logitech Release Wireless iPhone Charger Amid AirPower Delays
The Powered Wireless Charging Stand could plug the gap.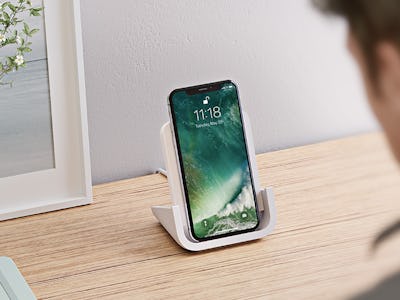 Logitech
Logitech has taken the wraps off its latest wireless charger, and it could plug a much-needed gap for iPhone X owners. The Powered Wireless Charging Stand, a product designed in collaboration with Apple and revealed on Tuesday, offers faster charging than standard wall plugs while enabling easy use in portrait and landscape. It comes while consumers wait patiently for Apple to release its AirPower wireless charger, which it announced nearly a year ago.
The charger is set to hit shelves just under 12 months after Apple announced the iPhone 8, 8 Plus and X, the first iPhones to support wireless charging. At the same event on the company's campus, CEO Tim Cook also announced an AirPower wireless charging mat — but while Apple promised a release date of spring 2018, a June report claimed the charger would now ship in September. Logitech's charger could provide an ideal alternative, with the ability to deliver up to 7.5 watts of "fast charging" power versus the five watts found in regular plugs, a cradle that holds the iPhone on the coil in place, and a design that allows for multiple orientations:
The cradle has been designed with the iPhone in mind. It holds the phone at a 65-degree angle to enable users to unlock with Face ID, with rubberized edges to stop the phone from falling when vibrating. The 0.9-pound dock comes with a five-foot cable making it ideal for traveling, while it can also deliver five watts of power to non-Apple Qi-supporting smartphones. An overheat protection system negates the need for fans by regularly measuring temperatures. The dock also works with cases up to three millimeters thick, assuming the case has no magnets or the like.
Some buyers may want to hold off until the AirPower launches, though. Apple's fabled charging pad doesn't hold the device at an angle, but it provides support for up to three devices at once so others can charge their phone at once. The AirPower also supports an extension to the Qi standard that enables charging with the Apple Watch Series 3 and an upcoming upgrade to the AirPods.
The Powered Wireless Charging Stand is set to go on sale later this month for $69.99.