The Cost of AirPods Could Be Rising Soon — Here's Why
It's not because of any upgrades.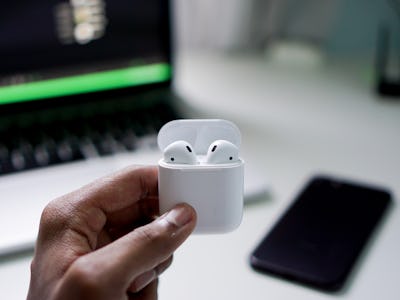 Unsplash / Suganth
AirPods be getting a price hike soon and it's not due to any of the potential upgrades Apple reportedly has in the works. Indeed, while MacBook and iPhone customers may have so far been spared in the White House's efforts to tax Chinese imports, customers looking for deals on the company's wireless earbuds may not get so lucky.
That's according to a recent Financial Times report Monday morning that Apple might be forced to raise the cost of AirPods if the government begins charging the company to ship in components from overseas. The report stated that analysts at Morgan Stanley have been eyeing the looming trade war between the United States and China as one of the company's "greatest risks" as its annual iPhone event approaches.
Earlier in July, the Trump administration announced it would slap a 10 percent tax on $200 billion in Chinese products. The list of targeted goods includes everything from furniture to bicycle accessories, but the taxes on electronics components are what could make the $159 AirPods even pricer.
According to the Nikkei Asian Review Chinese manufacturers account for 13.5 percent of Apple's suppliers. These include companies like Inventec and Luxshare, that play major roles in the assembly of AirPods. Tariffs on these kinds of component providers have already taken a toll on companies like Tesla and Apple could be next.
While iPhone sales still make up a massive portion of Apple's revenue, auxiliary products like AirPods and the Apple Watch have also been playing an increasingly important role for the company. In the first-quarter of 2018, Apple reported $5.5 billion in revenue from these products alone. True, that only accounts for about 6 percent of Apple's $88.3 billion revenue for Q1, but still big enough of a business for price hikes to rock the boat.
That's because its accessories business is arguably one of the ripest areas for growth, (compare that $5.5 billion figure with the $3.2 billion its electronic accessories raked in during the last quarter of 2017). According to the market research firm Canalys speaking to the the Financial Times, that cost bump could be enough of a headwind to halt the impressive growth that these products have seen.
"If there was a change in price, obviously that's going to impact demand," said Vincent Thielke, a Canalys analyst.
Apple's second-quarter earnings report is scheduled for July 31. Katy Huberty, another Morgan Stanley analyst, is anticipating an "in-line June quarter," but expect questions about what these newly imposed tariffs could mean for the future of certain Apple products.