It's Official: This Year's iPhone Announcement Was a Huge Letdown
The big show disappoints.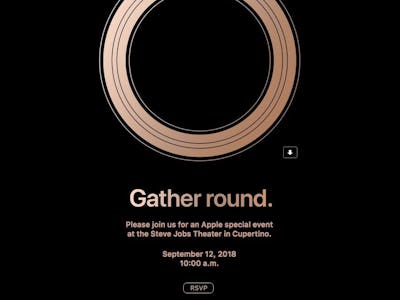 Apple's keynotes are almost as famous for the excessive pageantry as they are for the products announced in them. And the September 12 event to announce the iPhone XS, iPhone XS Max, and Apple Watch Series 4 was obviously no different.
As is custom, the company brought out a number of heavy hitters to tout the virtues of the new lineup, including, most notably, American Heart Association President Dr. Ivor Benjamin. Benjamin, a cardiologist by practice, was on hand to tout the new Apple Watch Series 4, by far the most innovative new hardware on display. It's the first-ever over the counter device capable of taking electrocardiograms, and has already gotten a seal of approval from the Food and Drug Administration.
But other than that, it was a lot of fluff, and even some re-hashing of the software updates we saw at WWDC. NBA legend Steve Nash was on hand to showcase some of the capabilities of the new ARKit and its potential to bring new augmented reality applications to the iPhone. He touted a new AR App geared to basketball fans which can track missed shots and release times to help you refine your jump shot. It was pretty cool, admittedly, but not enough to make up for the unannounced hardware.
What Was Missing From the iPhone Keynote?
Apple obviously spreads out their product releases all the time, but there were still a number of rumored releases for 2018's September event that didn't exactly pan out. There were no new iPads yet, for example, despite credible reports of a new suite of iPads that ditches the Apple charging standard in favor of USB Type-C charging.
We also didn't get a whisper about any new changes coming to the AirPods, Apple's signature wireless buds. Our expectations were pretty measured on this count, but again, reports have long circulated that an AirPods update is imminent. We've even gotten some pretty specific feature upgrades about the new headphones, for example HomePod integration and built-in Siri.
But the biggest let-down was obviously the non-appearance of the AirPower, Apple's long expected wireless charger. While close-readings of the Apple event invitations can often border on silly, the copper coil and the "gather 'round" invocation seriously called to mind copper charging coils and a new charging mat. Release details about the long-delayed product was shortly removed from Apple's product page.
Of course, in some ways this is a return to normal. It's often called the iPhone keynote for a reason. And with some serious slip-ups already on the books for 2018 — notably the litany of problems with the new MacBook — it makes a lot of sense that the company seems to have slowed its roll.
But after a hype cycle like that, a new Apple Watch and some incremental improvements to the iPhone X feels like a pretty serious let down. On the bright side, it definitely means we're not out of 2018 rumors to fight about.