Will Apple's New AirPods Resolve Their Biggest Problem?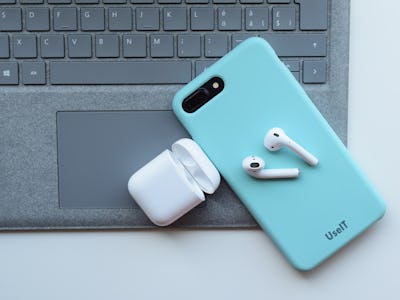 Unsplash / Behar Zenuni
Apple's signature wireless earbuds turn two this year. The arguably controversial product drew flak over the decision to ditch the headphone jack with the launch of the iPhone 7 entirely, forcing users to buy the $159 pair of earphones or use a dongle. But despite their rough first impression, they've consistently sold out. But as Apple tries to sell users on a completely wireless future, they've failed to deliver on the quality anyone in the market for a high-end pair of headphones is going to be looking for.
AirPod users on Reddit have stated that allure of the device's sleek design, portability, and wireless-ness have been drowned out by their poor sound quality and leakage. One customer compared their quality to Apple's original EarPods, unacceptable considering they're more than ten times the price.
"It's still pretty close to the wired EarPods that retails for under $15. Most reviewers seem to agree on this," said one user on Reddit. "Needless to say, this makes AirPods extremely poor value for sound quality alone…In the AirPod's price range, you can get much better sound quality. For everything else though, except for isolation from outside noise, they're fantastic."
The new hardware on the horizon begs the question, will Apple refresh one of their most popular products to either improve sound isolation or go completely noise-canceling during their September 2017 product launch? Or will the potential AirPods 2, AirPods Pro, or AirPods Plus take a backseat to other devices?
AirPods 2: Are Noise-Canceling AirPods Even Possible?
In-ear headphones with noise-canceling capabilities already exist, both Bose and Samsung have versions out on the market already.
They aren't as compact as the AirPods, but you would still have expected Apple to at least provide some sort of sound isolation tech by now. Its head-scratchingly huge $3 billion acquisition of the luxury audio company, Beats Music and Beats Electronics was all the way back in 2014. They got a streaming service out of the deal, too, but it's awfully hard to see what all of acoustics and design talent they acquired from Beats Electronics has been up to since then.
The Cupertino-based firm has all the hardware and software behind Beats headsets right at its fingertips, yet has not implemented the same noise canceling technology that even the Beats products are currently flaunting. Job postings for in-house acoustic and sound design talent aren't hard to find. Is it possible some of these people, somewhere, has been giving the Apple AirPods some love? Fortunately, some credible rumors indicate that an overhaul is underway.
AirPods 2: What The Rumors Have Said
A pair of noise-cancelling and water-resistant AirPods could be coming soon. That's according to a report by Bloomberg's Apple scoop machine, Mark Gurman and fellow tech reporter Debby Wu, who spoke to various Apple employees who alluded to this heralded product.
This followed the rumor that a second-generation of over-the-ear AirPods are in development by famed Apple analyst Ming-Chi Kuo. He was scarce on the details but wrote that they might offer HomePod support, improved sound quality, and built-in Siri capabilities.
Both Gurman and Kuo have proven track records when it comes to predicting upcoming Apple products. But it's unclear whether or not they meant an AirPod refresh was in the works for 2018 or if they were echoing changes to come further down the line.
AirPods 2: What To Expect Come September 12
So will Tim Cook tout another pair of Bluetooth-enabled earbuds on September 12? The chances are pretty slim.
A majority of this year's rumor cycle has revolved around the new iPhones (of course), the delayed AirPower wireless charger, a new iPad Pros with Face ID, and a larger Apple Watch. Throwing in yet another piece of hardware in there could be a tad ambitious and comparing the amount of chatter we've heard about other products, it's likely that a new pair of AirPods will probably have to wait.
So better crank up the volume, or if you're not sold on AirPods, grab a dongle because Apple isn't changing anything about its wireless earbuds any time soon.