Apple AirPods Are Sold Out: Here Are 5 Earbuds You Can Gift This Holiday
How to beat your Apple FOMO.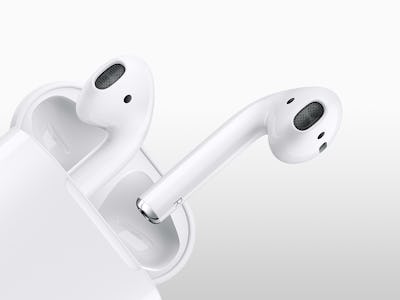 Apple
If you're still on the hunt for a fresh pair of Apple Airpods in time for the holidays, you're out of luck. The earbuds have sold out across the internet, with the AT&T Store seemingly the only online outlet that can get them to you by December 25 — at least, for now.
But if a pair of cordless earbuds are still on your wish list, here are some alternatives you can get your hands on before Christmas Day.
Bang & Olufsen Beoplay E8 Earphones
This pair might run you roughly double the amount the $159 Airpods will, but reviews on Amazon have stated that they are similar if not better than Apple's product.
The earbuds sort of seal your ears, giving you some pretty sweet sound quality that the Airpods wouldn't be capable of. They even come with an app that lets you customize your listening experience.
However, the E8s fall short in the battery department. They only last 3-4 hours according to reviews, while the Airpods can usually last an hour longer.
Sony WF-1000x
Sony's set of noise-cancelling wireless earbuds is more in Apple's price range. And users have said that they're able to delivery some really high quality sound when they're connected properly.
However, the main issues with these was the battery life and that the connection to your device can be spotty, defeating the noise cancellation feature. One review says they're great for travel but are not fit to workout with because the motion of exercise causes the audio to cut out.
Jabra Elite Sport True Wireless Earbuds
These are comparable to the Bang & Olufsen pair. They come with an app to customize your settings and reviews have said that connecting them to your device is extremely simple and reliable.
They were also said to fit comfortably, providing users with consistently good audio quality, even when exercising. Although, some Amazon users claimed the maximum volume setting was still not loud enough for them.
Avanca Minim True Wireless Earbuds
If you're looking for get wireless earbuds for a bargain price, look no further. Avanca's website advertises these at 129 euro, but you can pick them up for around $80 on Amazon.
A few users said they had issues maintaining connection between their devices, which could be a problem if you want to use them at the gym. But this might be the best deal you'll find for this type of headset.
Sol Republic Amps Air
This is another budget pair of earbuds that are even sleeker than Airpods. Each bud fits comfortably in your ear with nothing jutting out.
These had the most 5 star reviews on Amazon. They have noise cancelling features, a three-hour battery life, and users said they've had no problems with them at the gym. However, some people did have some issues pairing them to their phones.
These headphones monitor your brainwaves to keep you focused.