iPad Pro Rumors Suggest Apple Might Ditch Long-Standing Charging Standard
Apple hasn't done this to any other device before.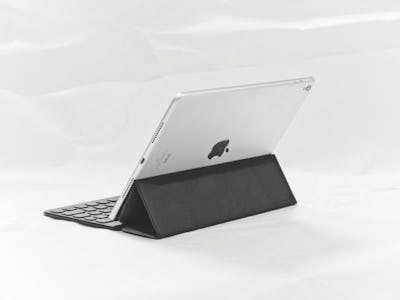 Unsplash / eleven x
In a bit of a twist, the biggest change to this year's new Apple product lineup might be coming to the iPad Pro. In fact, if the latest rumors are to be believed, Apple might be removing one of the signature moats that make using non-Apple tech with its line of tablets so difficult: the Lighting charging port. But instead of going completely wireless, this year's rumored iPad pro models might be the first Apple product in history to adopt USB Type-C charging.
Let's take a step back to think about why such a monumental shift makes sense. Remember the renders and alleged leaked images of an iPhone "fast charger" that made the rounds of the blogosphere earlier this year? Well, Apple analyst Ming-Chi Kuo now writes that this rumored 18-watt charger will ship with the expected duo of iPad Pro devices, while all iPhone will remain reliant on their Lighting ports.
This seems completely out of character for the Cupertino-based company, which has been using the Lightning connector for its iOS devices since the September 2012 debut of the iPhone 5. But this could, at last, give the photographers and graphic designers the hardware support they need with their pricy Apple tablet.
This pivot could make it much simpler for photographers or graphic designers to connect their cameras or external hard drives to Apple's heralded 12.9 and 11-inch iPad Pros without an adapter. However, in its own uniquely roundabout way this "simplification" could make you wind up buying more Apple products in the long run.
That's because previous iPad Pro chatter suggested that these two upcoming tablets will also do away with the 3.5-millimeter headphone jack, just like the iPhone 7 did back in 2016. This would render 3.5mm-to-Lighting dongles useless, and force audiophiles to either pick up a USB-C adapter or use Bluetooth headphones which are proven to provide deliver less sound quality than their wired counterparts.
On the other hand, while the report of Kuo's note makes it seem that Apple will switch their tablets to USB-C entirely, there's a chance that he could have meant the tablets will ship with a lightning-to-USB-C adapter. This would be a far less drastic change and provide the same capabilities completely switching would, albeit by adding another dongle to the mix.
This prediction follows previous rumors alleging that the upcoming 12.9-inch iPad Pro will come with facial recognition technology like the iPhone X's Face ID. It also aligns with the report of a mysterious port depicted in renders of the alleged tablet.
While all eyes will be on the announcement of this year's forthcoming iPhone trio, iPad fans will look for answers about what the future hold for the tablet when CEO Tim Cook takes that steps onto the stage at the Steve Jobs Theatre.