Mentally Prepare Yourself People: Apple Might Ditch Its Lightning Charger, Too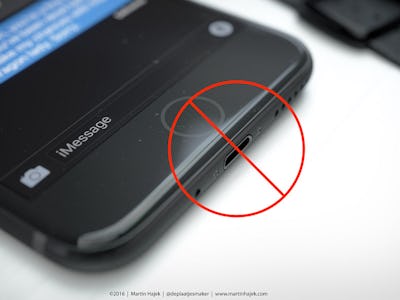 The September 2016 announcement of the iPhone 7 brought the death of the headphone jack. The outrage in reaction to this move was heard across the internet. But right when we thought Apple was done killing off fundamental phone features, chatter has surfaced that the Lightning Charger's days might be numbered.
A Bloomberg report on Thursday detailed why AirPower wireless charger has faced delays and how it might come to market in September. But along with the potential future of this device came a factoid that might have gone overlooked: Apple thought about completely ditching wired charging when they were developing the iPhone X.
Mark Gurman — the publication's resident Apple scoop machine — spoke to executives and engineers who revealed that the company chose not to make this move because of the state of wireless charging tech and the cost.
"During the development of the iPhone X, Apple weighed removing the wired charging system entirely," writes Gurman. "That wasn't feasible at the time because wireless charging was still slower than traditional methods. Including a wireless charger with new iPhones would also significantly raise the price of the phones."
But with the AirPower charger expected to hit shelves in September, could we see a model of iPhone that doesn't use Lightning Charging?
This is all speculation for the moment, but Gurman's report also stated that "Apple designers eventually hope to remove most of the external ports and buttons on the iPhone, including the charger." So even if it doesn't happen right away, Apple seems to be working towards fully pivoting to wireless charging.
Of course, this won't come close to happening until the company develops a streamlined method to manufacture AirPower chargers, which has proven to be difficult. The device was announced in 2017 and was touted to be capable of charging an iPhone, Apple Watch, and a pair of AirPods simultaneously. A feature that requires cramming charging components of three different devices and multiple charging sensors into a thin mat may take a while longer yet to come to life.
Even if Apple figures out how to do that by September, the AirPower will likely come at a lofty price tag at first. But if the company is able to make them at a comparable price to Lightning Chargers we could see a future where wireless charging is the standard for all iPhones.
So mentally prepare yourself, we might lose another jack.