This Leaked iPhone 7 Case Shows Apple Said Bye-Bye to the Headphone Jack
The camera is getting an upgrade too.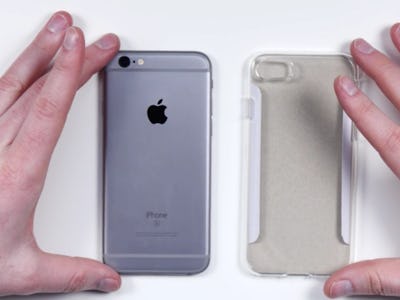 Apple iPhone lovers may have to make the switch to Bluetooth wireless headphones or lightning headphones. Unbox Therapy posted a video today revealing two leaked iPhone cases, and there doesn't seem to be a spot to plug in a headphone jack. While it doesn't come as a surprise to some who had a feeling Apple would say goodbye to the 3.5 mm jack, it may be a hard transition for iPhone users since the standard ear-pods that have come with the phone in the past need a 3.5 mm port.
Sonny Dixon — who has a rep for leaking out Apple components — sent Lewis of Unbox Therapy two clear cases based off of mockups of the 4-inch iPhone 5SE and the iPhone 7.
The iPhone 6S snapped perfectly in the case so it's safe to say the body will be the same, but Lewis noticed some pretty significant differences. Right off the bat, he reviewed a larger opening for the camera:
"One thing that stands out to me is the unusual shape of this camera cut out. This time around we have a much larger opening, which would imply something interesting happening in the camera department," Lewis says. He goes on to speculate that it could mean the camera will have a bigger piece of glass or two lenses.
He also points out that the opening for the lightning charging port is slightly larger, extending into the aluminum back.
Then after taking a closer look, Lewis spotted it: the openings for the speakers and headphone jack are smaller. He gets a pair of earpods and tries to plug them into the port, but the case just pops it right back out.
Apple became a promoter of the Bluetooth Special Interest Group in June 2015, so it makes sense that it wants iPhone users to cut the cord. However, as mentioned previously, you can also purchase lightning headphones which are plugged into the charging port.
On top of all the iPhone 7 leaks, Unbox Therapy also found that the smaller iPhone 5SE looks like it will be comparable in size to the iPhone 5 except it will adopt the curvature that you see in the iPhone 6's design.
It's rumored that the iPhone 7 will be announced in September, while it's very likely that the iPhone 5SE will make its debut during the Spring Event on March 21 along with a new version of the iPad and Apple watch.