iPhone Leak Reveals "Sample" of Rumored 2018 Fast Charger
This bolsters previous rumors.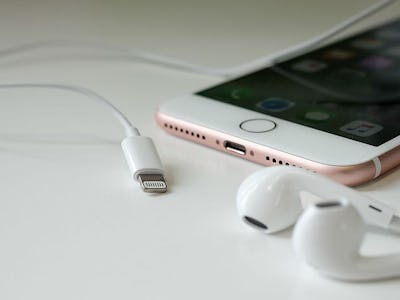 In addition to the swirl of rumors about what Apple has in store for its next line of iPhones, there's been a great deal of chatter that 2018's hardware upgrades will also include the introduction of a fast charger.
Pictures published on the Chinese blog Chongdiantou claim to reveal an "engineering sample" of the 18-watt USB-C charger that might come with this year's iPhones. Previous leaks by ChargeLab unveiled mockups of what the European version could look like, but this is the first time photos of the plug have surfaced.
The images depict a round charger that is notably larger than the standard block that comes with all current iPhones. One side of the device has a Lightning connector, while the other end details the output data and states that it is an engineering sample.
According to the barely legible picture, the charger has the capability of providing up to 5 volts of power at 3 amps (5V 3A) and 9V to be delivered at 2A (9V 2A). These are precisely the same upgrades that Jun Zhang of Rosenblatt Securities said would be coming to future iPhones, according to his sources in Apple's Asian Pacific supply chain.
In a note to investors, the analyst stated that Apple could be partnering with chip manufacturing company, Power Integrations, to help soup up the iPhone's semiconductors to enable a faster charge. The leaked document went on to say that this move was to "support more applications, provide a quicker recharge, and better compete with Android [original equipment manufacturers]."
Apple's competitors have been providing fast-charger technology for years, so this could be a way for Apple to catch up in an area they have been notably lacking. That said, a recent Bloomberg report stated that the company's focus, at least as it pertains to charging, is working overtime to bring their AirPower wireless charger to market by September.
Launching both a wired charger and a wireless charger at the same time might be counterintuitive, especially if Apple is working towards a future with no Lightning port at all. So while this might be the most concrete evidence yet of the existence of an iPhone fast charger, the fact that AirPower is in the works casts a cloud of doubt around this entirety of this rumor.