Don't Wait for Apple's AirPower; This Wireless Charger Is All You Need
The Nomad Wireless Charging Stand is the only upgrade you need.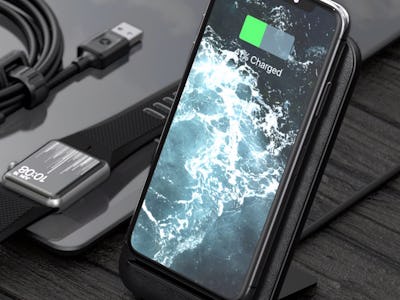 Apple has been apparently fine-tuning its wireless charging mat, the AirPower, for over a year now. Just how much fine tuning does something need? By the time Apple unveils its bespoke charger, it will have to compete in an already flooded market or fast, reliable, and good-looking chargers. None more so than the Nomad Wireless Charging Stand — my favorite of the bunch so far.
The "stand" also functions as a traditional wireless charger, which is to say you can flip shut the "stand" part and make it a flat charging pad you can just plop your phone on to. It's fast and capable of charging pretty much anything with wireless charging capabilities, including Apple's iPhone 8 through to the new XS and XR models. It's made out of a beautiful, high-grade Horween leather that will age well with time, and certainly look better than whatever white plastic thing Apple eventually unveils in the undetermined future.
Simply put, this is the best and easily the most beautiful wireless charger out there at a price that competes with even the stupidest looking ones. Grab it now on Huckberry.