iPad Pro Face ID and Apple Pencil Upgrades Detailed in New Report
A new version of the Apple Pencil could be around the corner.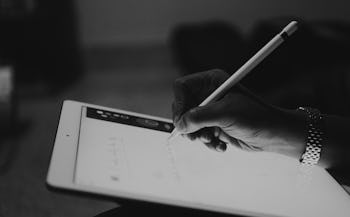 Unsplash / Suganth
The iPad Pro is due for a big upgrade. A report published Monday claims Apple is planning to launch a new version of its tablet that will support face recognition and an Apple Pencil that works more like AirPods or the HomePod. The report also claims that the new tablet will offer USB-C support for outputting 4K HDR to an external display.
The 9to5Mac report claims Apple will release a new iPad later this year with support for Face ID, the face-scanning system that debuted with the iPhone X that projects 30,000 invisible dots to judge the shape of a user's face. The iPad version will work in both portrait and landscape but not upside down, but initial scans must be completed in portrait mode. Because of this upgrade, Apple will drop the fingerprint-scanning home button and bring the display closer to the edges, although the display won't feature a "notch" akin to the iPhone X.
See more: Report Claims iPad Pro Will Use USB-C, and It Could Mean End of Lightning
The report also details a new version of the Apple Pencil, which pairs with the iPad Pro when it's close enough, similar to how AirPods and HomePod pair with Apple devices. The tablet will also feature a new magnetic connector for accessories, while the USB-C connector will enable a new section of the "Settings" app for controlling resolution and other parameters for output. It's unclear if the tablet will also offer the Lightning port from previous models.
Expect the new device to come in eight different types, two with Wi-Fi in two sizes and two with LTE in the same sizes. That correlates with an August report that claims Apple would launch an 11-inch and 12.9-inch iPad Pro, plus another report in September that claimed the 12.9-inch model would measure 280.6mm by 215mm by 5.85mm, measuring at 7.77mm with the new camera bump included.
Apple has at times held an event in October to announce new iPads, suggesting that if the company is going to update its tablet line, a launch could come soon.