Apple Leak Suggests Huge New iPad and Mac Mini Updates Could Be Coming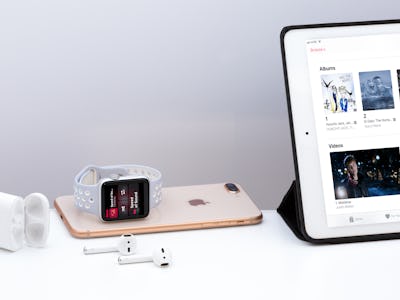 Unsplash / Thomas Kolnowski
While Apple aficionados may be most fixated on the trio of iPhones that are expected to hit shelves this fall, a new research note penned by Apple analyst Ming-Chi Kuo of TF International Securities suggests some of the more noteworthy updates might be coming to the other devices in the Apple universe.
According to a 9to5Mac report, the company will be dropping a new iPad model, breathing life into the long-neglected Mac mini, a larger Apple Watch, and an upgraded set of AirPods. The article states that all of this fresh loot will be accompanied by three new iPhones, predicted to be two 5.8-inch and 6.5-inch OLED models and a 6.1-inch LCD model.
Kuo gathers collects his information through contacts with Apple's Asian-Pacific suppliers and then provides his clients with detailed research notes of how future Apple products might look. And this year the company appears to be dropping some heat.
Apple Leak: Big Boost in Computer and Laptop Performance
All of Apple's computers are predicted to be getting chip upgrades with Intel's latest eighth-generation Core processors this fall. These include the MacBook, MacBook Pro, iMac, and at long last the Mac mini.
This is more of an under-the-hood change, but if you've been stuck using a Mac mini from 2014 you'll definitely note the difference. New processors ensure your desktop and laptop are the powerhouses they're meant to be and not frustratingly laggy.
Apple Leak: A Breath of Fresh Air for the MacBook Air
Along with these chip upgrades, Apple might also introduce a brand new MacBook Air model. While the ultra-thin laptop received some minor hardware changes in late 2017, it hasn't received a major overhaul since 2015.
Kuo says this could be a budget-friendly version of the laptop but didn't elaborate any further. It's worth noting that the MacBook Air is the only line of Apple laptops without a Retina display option, which leaves the door open for that addition. However, this wouldn't fit into Kuo's prediction, seeing as an entry-level MacBook with a Retina display costs $1,200.
Apple Leak: New Wireless Charger and Wireless Earbuds
It seems like Apple will make good on delivering the delayed AirPower wireless charger as well as a new set of AirPods, according to Kuo.
An earlier Bloomberg report stated that Apple is in the process of designing noise-canceling AirPods, but those aren't slated until 2019. The earbuds that could be coming this fall will likely include minor connectivity and Siri improvements.
Apple Leak: Apple Watch Gets a Facelift
The Apple Watch could also be headed for a whole new look. Kuo anticipates the smartwatch will be getting marginally larger displays. The 38mm version will be sized-up to 1.57-inches from 1.5-inches and the 42mm model will jump to 1.78-inches from 1.65-inches.
It's unclear whether this means the devices will be getting an aesthetic overhaul or if their faces will only get a size increase. But fall is inching closer every day so we'll all get a confirmation of these hardware expectations soon enough.
Apple Leak: iPad Is Getting Some iPhone X Features
Apple is said to be cooking up two new iPad Pro designs, both of which might come with some familiar iPhone X features. These future tablets are predicted to come without a home button and come equipped with Face ID capabilities.
Kuo expects them to be 12.9-inches and 11-inches, the latter of which could replace the currently 10.5-inch iPad Pro.