Apple to Kill Its iPhone X and SE Models for This Reason, Report Claims
Is this the end for the iPhone X?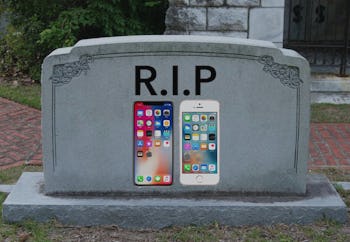 An interesting investor's note from a pair of analysts just added fuel to the Apple rumor mill. The latest asserts that the iPhone SE and iPhone X will be nixed by the third business quarter of this year.
John Donovan and Steven Mullane, the duo of analysts from BlueFin Research Partners, assert that this move will be made so Apple can double down on its release of the so-called "iPhone 9, iPhone 11, and iPhone 11 Plus" in the fall.
According to a report by the financial news publisher Barron's, the analysts are anticipating "pent-up demand" for the new trio of iPhones because of a "lack of upgrade activity over the past few years."
In other words, they see the potential for Apple to sell a ton of phones this cycle.
In light of this, the analysts believe Apple will crank out 91 million new iPhones during the third and fourth business quarter. This would be followed by another 92 million units during the first two quarters of 2019, figures that they described as "far larger than normal cycles." Barron's stated that the analysts neglected to cite sources for these predictions.
In the note, Donovan and Mullane discuss the "iPhone 9, iPhone 11, iPhone 11 Plus," which could refer to the one LCD-screen and two OLED-screen smartphones that most rumors believe will hit shelves come this fall.
However, the analysts' claims seem to conflict with some of Tim Cook's statements during Apple's May earnings call, which praised the iPhone X for being the "has been our top-selling iPhone every week since it shipped."
Without knowing what sources BlueFin used to make these assertions it's best to take these predictions with a grain of salt. While research firms try their best to predict consumer behavior and anticipate what companies might do next, there is still a lot of room for error.
We'll have to wait for the fall to get an idea of what Apple's iPhone strategy will look like in the year to come.