Apple Event 2018, Big Question #8: Will AirPower Charging Mat Be Addressed?
Will we finally see Apple's wireless charger?
by James Dennin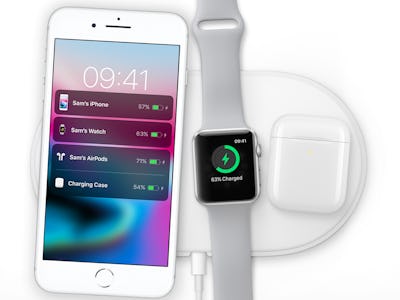 The public has already had many sneak peaks at one of the year's most anticipated hardware releases, the iPhone XS that's widely expected to drop at the September 12 Apple event at the company's spaceship-like headquarters. But while rumors have abounded, the jury is still out as to whether next week will also see the formal release of the AirPower, Apple's wireless charging mat that's been beset by delays.
AirPower was first introduced at last year's keynote, and it's not the only Apple release in recent memory that's taken longer-than-expected to come to fruition. A January Wall Street Journal analysis found that delays between when a product is first announced and when it actually ships to customers may have as much as doubled under Apple CEO Tim Cook. With AirPower, the problem seems to have been fitting all the components needed to charge three different devices into the available space.
For the week running up to Apple's September event, Inverse count down the most-anticipated questions about the company's new technology.
That said, a number of early hints have given fans reason to hope that the long wait may finally be over. From leaks to the invitations themselves, the hints are that the public will get some concrete details about the soon-to-be-ubiquitous changing mat.
Apple AirPower: Did the Event Invites Tease Wireless Charging Mat?
One of the biggest clues about the release may be the invitations themselves, which many interpreted as evoking the copper charging coils that you find inside iPhones. That, plus the invitation to "gather round" — which many took to be an evocation of your future ability to "gather all of your devices 'round your beloved AirPower" — lead many believe that AirPower will be one of the main product announcements on this year's lineup. The circle on the invitation may be something more obvious though: The event is at the Steve Jobs Theater at the Apple Campus, which is also a big circle.
Apple AirPower Has Long Been Rumored to Drop in September
Expectations that AirPower would be on the docket this September have long swirled, particularly since a June report indicated that Apple was determined to ship the AirPower by that month at the latest. That, naturally, evoked Apple's signature hardware announcement that always happens in early-mid September. Bloomberg's Mark Gurman and Debby Wu also strongly suggested Apple was planning to release AirPower during this year.
AirPower Patent Unearthed in Hong Kong
Yet another clue that has expectations running high came from a patent filing in Hong Kong that was unearthed by PatentlyApple on July 30. That patent was published along with mockups of the device, suggesting that its release was imminent.
The evidence has been robust enough for some outlets, including DigiTimes, to report the September 12 release date outright, though, of course, we'll have to wait until the actual event to know for sure.
In addition to its three iPhones and AirPower, other hardware might be on the docket next Wednesday as well. These include a new Apple Watch, an iPad, and possibly a new MacBook as well.