Will a Gold iPhone XS or Its Big Display Be Worth It? Reddit Weighs In
Will you be shelling out $1K or more? 
by James Dennin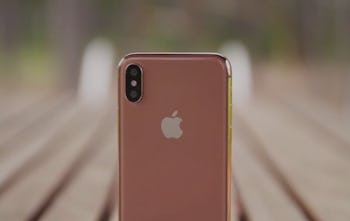 Twitter
In what appears to be an atypically abundant pre-launch leak, a number of details and even what appears to be a press photo — a PRESS photo! — of some of the new products being launched September 12 have already hit the internet. That gives Apple fans the better part of an extra two weeks to salivate over specs and weigh whether or not they will make the upgrade when the new iPhone XS (if it is indeed called that) launches in earnest.
It was a pretty surprising leak, but the source was 9to5Mac, definitely a credible outlet. That said, some people have already taken issue with some of other details revealed in 9to5's report, namely that both iPhones will be dubbed the iPhone XS.
As some pundits have pointed out, that creates a bit of a branding and differentiation issue, and requiring users to specify which version they wanted by stating the dimensions would be "simply inelegant."
Others have suggested that XS refers to the family of devices, and that the larger handset will be dubbed something like the iPhone XS Plus. And yet others have questioned whether this is a launch that's worth sitting out entirely, especially if you've already shelled out for a pricey iPhone X that might not wind up being all that different anyway. 
Will the New iPhone XS Be Worth It?
The debate is already raging as to whether or not the new iPhone XS will be worth the price tag. Aside from the usual incremental improvements, the iPhone XS isn't supposed to be all that different from its immediate predecessor. The main selling point is probably the screen size, with its 6.5 inch OLED screen, the larger iPhone XS is the largest iPhone ever, and one of the largest mainstream smartphones.
Another draw, perhaps, is that the iPhone XS is also expected to come in a rose gold color, which will probably be pretty. Some leakers even interpreted the coloring on the recent event invites as further evidence that users would be treated to a premium color option. But particularly for people happy with the iPhone X, it's hard to see how a new color or a bigger screen alone make it worth the price of an upgrade.
"I really enjoy the size of the X. I'm not really into gold, so I'm really out of reasons I need that upgrade," wrote one Redditor. "I'm on the iPhone upgrade program so I can get a new phone every year but I'm actually considering keeping the X another year, or at least not upgrading on launch day."
iPhone XS: Triple Lens Camera?
The coolest feature rumor about the new iPhone XS is probably the possibility that it will get an extra camera lens in the back to help you take better pictures, even in terrible lighting, and possibly enable much more powerful zoom. That rumor dates all the way back to April, and came from the Taiwan based Economic Daily News.
According to that report, Apple has plans for a triple lens rear camera, with the top lens capable of 12 megapixels. That said, the report also suggested that the phone won't appear until 2019, suggesting these may be rumored specs for next year's models.
Apple Event Launch: Airpower
Of course, Apple likely has some other, perhaps more compelling announcements up its sleeve too. This is widely expected to be the much anticipated (and long awaited) launch of AirPower, its new wireless charging mat that's supposed to be capable of charging multiple devices at once.
The AirPower's seen some delays, but many people interpreted the brass coil at the center of its invitations as an evocation of the copper charging coils found within iPhones.
iPhone XS: Many Users Will Upgrade Anyway
On the other hand, some early preliminary survey data suggests that Apple fans are hyped for upgrades regardless of what gets launched. A new survey of iPhone users commissioned by Loup Ventures found that a whopping 48 percent planned on upgrading. That's nearly double what the same survey found last year, and up from just 15 percent in 2016.
Of those planned upgraders, roughly 42 percent said they were planning on getting one of the unannounced iPhones. That could very well include lots of people planning on getting one of the cheaper, LCD screen phones which are expected to come in an array of colors and boast lots of the iPhone X's signature features. But that's still a lot of upgrades for a what's ultimately a pretty incremental year.
Taken together, and with numbers like that, it's easy to see why Apple didn't feel a need to reinvent the wheel just yet.