Everything We Know So Far About the iPhone XS Being Introduced September 13
by James Dennin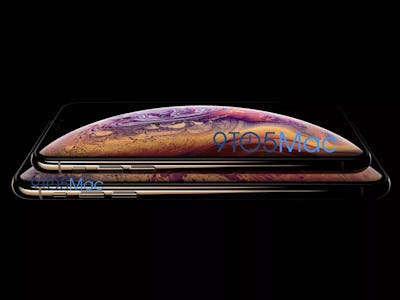 9to5Mac
Ho boy. In what was already a pretty big day for Apple news after the invitations for its upcoming product launch hit the internet, it now looks like one of the leading Apple publications has gotten their hands on some leaked images of the new phones. And not a render, either, 9to5Mac say what they've gotten their hands on is the real deal.
According to them, what you see in the above image are the two higher end phones that Apple plans to launch early next month. Both of them feature the more expensive OLED screens from the iPhone X, which are capable of achieving much more vibrant colors and full blacks thanks to pixels that can toggle on and off individually.
In a bit of a twist, both phones will be called the iPhone XS, even though they have two differently sized screens, one a 5.8 inch model and one that's 6.5 inches, the largest iPhone screen that the company has ever produced. It also looks like both models will be coming with a rose gold option, which hearkens back to one of the most enduring rumors of this year's iPhone season.
iPhone XS Price: What Will the iPhone XS Cost?
We're still not a hundred percent sure what the new pricing will be, but there is a great deal of consensus that Apple doesn't plan on changing up its pricing formula too much. After a big of a skeptical reaction, the iPhone X turned out to be a pretty serious money-maker at a time when people seem to be buying fewer and fewer smartphones.
That line of thinking suggests that the larger, 6.5 inch model will probably retail in the $1,000 range (perhaps $999), just like the top-line phone at last year's event. The 5.8 inch model will probably be less, and sell for around $899, about a $100 less than what the current 5.8 inch iPhone X retails for right now.
iPhone XS Specs: New Chips Indicate Crazy Performance Upgrades
One thing that's got diehards excited is the prospect of new performance, which was a big theme at this year's Worldwide Developer Conference to roll out Apple's new iOS software. These new upgrades have to do with a breakthrough at one of Apple's key suppliers, Taiwan Semiconductor Company, which supplies the chips for iPhone processors.
TSMC has made a bit of a breakthrough on these new chips, the A12, by significantly reducing the distance of its components to seven nanometers, down from 10. That's expected to make the chips far more efficient, yielding much faster speeds and lower battery usage.
iPhone XS Features: Is 3D Touch Getting the Boot?
One of the more controversial announcements that's expected to come out of the September 12 announcement has to do with 3D Touch, which basically allows you to execute different commands by pressing on your phone's screen harder or softer. It was rolled out only three years ago, to much fanfare, and while it was long expected to be missing from this year's cheaper model, other reports have indicated that it will be scrapped entirely.
It's a little unclear what the reasoning for this decision, a prediction of Barclay's analyst Blayne Curtis, would be. It wasn't seen as a particularly widely used feature, but when online polls about the future of 3D Touch started to surface, it appears to be more beloved than previously thought.
iPhone XS Screens: a Smaller Notch?
With one notable exception — the so-called "budget iPhone" is widely expected to ship in a number of different colors — all three of the iPhones will actually look pretty similar.
Analysts, again from Barclay's have interpreted the addition of three new Chinese suppliers to mean that the TrueDepth system which enables Face ID has "evolved slightly."  Seems like that means it may wind up being a little smaller than the notch on the iPhone X.