How Much You'll Likely Pay for Apple's 2018 iPhone X Plus
It's not going to come cheap.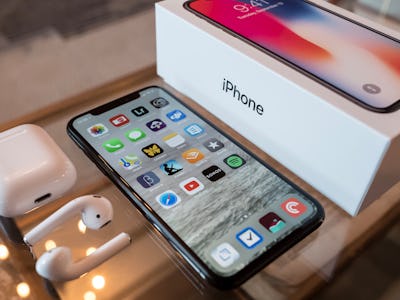 Unsplash / Drew Coffman
Apple's next smartphone is almost here. The company is expected to launch three new devices next month, as part of its fall lineup of flagship iPhones. But while newer normally means more advanced, the new devices could also prove a better value prospect than its predecessors.
The new phones are expected to come in three flavors, all of which use the same face recognition and home button-free design of the iPhone X. The cheapest is a 6.1-inch LCD model, rumored to ditch high-end features like 3D Touch and the second rear camera lens. The middle phone is likely a 5.8-inch OLED model, bearing similarities to an upgraded version of the iPhone X. The third is a 6.5-inch OLED model, acting as a large-scale version of last year's phone.
CEO Tim Cook shocked observers last September when he announced that the iPhone X launching two months later would cost a staggering $999. This was the highest price ever for an iPhone, aping even the original device that launched in 2007 (but which did, in all fairness, require a minimum length carrier contract).
Fortunately, such a shock is unlikely this year. Here's what to expect:
iPhone 2018 Price: How Much You'll Pay
Ming Chi-Kuo, a former KGI Securities analyst with a strong track record of accurate predictions, has detailed Apple's likely lineup:
6.1-inch LCD model for $699. This is the same price as the current 4.7-inch LCD iPhone 8.
5.8-inch OLED model for $899. This is $100 more than the current 5.5-inch LCD iPhone 8 Plus, but it's $100 less than the current 5.8-inch OLED iPhone X.
6.5-inch OLED model for $999. This is the same price as the current 5.8-inch OLED iPhone X.
The 6.1-inch model, in particular, offers an attractive price for the technology on offer. A report last month claimed Apple has managed to include an LCD screen into a design with relatively thin bezels, creating a 0.3t chip that improves on the 0.4t ones found in most phones by reducing the screen connectors from 4-4.5mm down to just 2-2.5mm.
However, be sure to keep an eye on the used market prices if you're looking to sell your old phone. Analysis from uSell found that old iPhones lost about five percent of their value one week after the next device launched, dropping 20 percent by week four.
iPhone 2018 Release Date
Apple has launched its last several flagship phones on the second week of September, releasing in the second half of the month. A leak from German site Macerkopf claims pre-orders will go live on September 14, suggesting the phones will launch two days prior. However, previous reports suggest the 6.1-inch model could launch in October due to the new LCD chip.
All will likely be revealed soon.