Here Is When Apple's Next iPhone Will Likely Launch
The launch is almost here.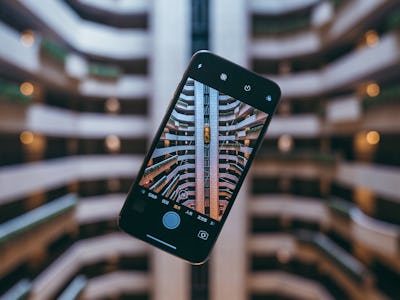 Unsplash / Yiran Ding
The wait is almost over. Apple is expected to unveil the successor to the iPhone X in the coming weeks, as part of a bumper reveal that may also contain surprises like a new charging mat and an iPad redesign.
Apple's next iPhones are set to bring the same Face ID technology and home button-free redesign to three new devices. The cheapest is set to be a $699 6.1-inch iPhone, with an LCD screen, that may also drop key features like 3D Touch and dual lens cameras. The second will be an $899 5.8-inch OLED iPhone that serves as an upgrade to the existing iPhone X, while the third will be a new $999 OLED iPhone with a staggering 6.5-inch screen. The new face scanning system, once exclusive to the iPhone X, could become a far more common sight.
Here's what we know so far:
iPhone 2018 Release Date: When Will It Launch?
Previous years suggest a pattern for when the next iPhone will launch. Here's how previous flagship phone launches went:
iPhone 8: Announced September 12, 2017. Released September 22.
iPhone 7: Announced September 7, 2016. Released September 16.
iPhone 6S: Announced September 9, 2015. Released September 25.
iPhone 6: Announced September 9, 2014. Released September 19.
iPhone 5S: Announced September 10, 2013. Released September 20.
iPhone 5: Announced September 12, 2012. Released September 21.
All of the above announcements fell on either a Tuesday or a Wednesday in the second week of September. This year, September 11 falls on a Tuesday and 12 falls on a Wednesday, making either of these two days a good candidate for an announcement.
Adding fuel to the fire is German news site Macerkopf, citing two carriers that claim pre-orders for the new phone will go live on 14 September, two days after their announcement. This makes September 12 a likely announcement date.
What's less clear is when they will launch. Previous patterns suggest a launch one or two weeks after the phone is announced, with one big exception. The iPhone X was announced on the same day as the iPhone 8, but it didn't go on sale until nearly two months later on November 3.
It's possible that the 6.1-inch model launches a little later. Morgan Stanley analyst Katy Huberty claimed last month that suspected issued with the LED technology may cause delays for the cheaper model, potentially pushing back to October.
All will likely be revealed soon.