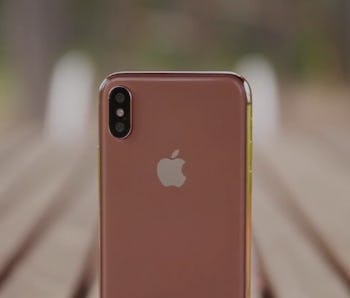 Innovation
Will Apple's New Version of Its Higher End Model Come in New Colors?
The new iPhone slate is expected to be colorful. 
Twitter
While we can't quite yet be sure when the new slate of iPhones will launch (probably early-mid September), or what the new iPhones will be called (we're not even sure Apple knows at this point); we do know quite a bit about what the expected phones are supposed to look like. Much of the speculation has surrounded what's in store for its higher end model, often described as the iPhone X Plus based on the naming conventions that continued through last year.
This new high end model is internally referred to as D33, according to a juicy new report from Bloomberg's Mark Gurman and Debbie Wu. And according to their reporting, the most important thing to know about this new iPhone has less to do with its color than with its size.
Indeed, the new highest end iPhone is going to be big enough to allow users to view content in two different apps for the same time. At 6.5 inches, Gurman and Wu say that it'll be Apple's largest iPhone by far and one of the largest mainstream phones in the market.
In addition to its heftier size, the high end smartphone will also come in gold, according to a prediction by the notable Apple analyst Ming-Chi Kuo.
That said, it sill looks like most of the new colors will be rolling out with another of the three iPhones that's expected for the fall. Just as Apple used a suite of new colors to to help market a more budget-friendly alternative to the iPhone 5, this year's iPhone at the lowest price point is expected to come in a variety of colors.
This phone has in the past been referred to as the iPhone SE 2 or the iPhone 9, and according to Bloomberg is internally referred to as N84. It's not really clear yet exactly what the new colors will be, though there have been a number of earlier predictions.
An earlier report from Kuo indicated that the new cheaper phone will be launching in blue, gold, gray, orange, red, and white; while another rumor from the analyst Jun Zhang said that the new colors would instead be black, "Bright Orange," "Electric Blue," "Flash Yellow," taupe, and white.