iPhone X Plus Survey Reveals Higher Demand Than Expected
Apple could see a slew of sales this year.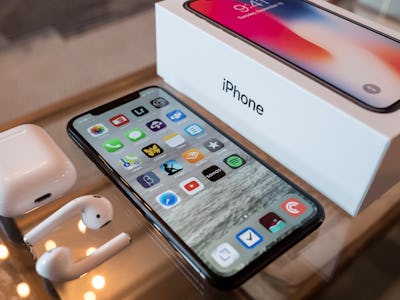 Unsplash / Drew Coffman
The next set of iPhones could prove more popular than expected. New survey results released Thursday show demand for Apple's next smartphones will likely move beyond investor expectations, as a staggering 48 percent of existing iPhone owners plan to upgrade in the next year, up from just 25 percent from June last year and 15 percent in July 2016.
Loup Ventures, which counts famed analyst Gene Munster among its ranks, surveyed 530 American customers and found an unexpectedly high amount of demand for the coming phones. The release comes the year after the launch of the iPhone X, and its radical redesign plus face scanner are set to appear on all three phones this year. A common refrain in Apple communities is that buyers should skip the first generation of a new product (the iPhone X being no exception), and users that held off paying the $999 last year may feel the time is right to jump in this year.
See more: Here's the Best Time to Sell Your Old Smartphone Ahead of iPhone X Plus
The survey also found that of those planning to buy a new device, 42 percent were aiming for one of the unannounced iPhones, while 18 percent were going to buy the iPhone X. A further 17 percent were buying the iPhone 8, while 24 percent planned to buy another iPhone. Of the entire survey, 40 percent were Android users, and 19 percent of those users planned to buy an iPhone, up from 12 percent last year.
Apple is expected to launch three new phones in the coming month. The first is a $699 6.1-inch LCD iPhone, the second is an $899 5.8-inch OLED model, while the third is a $999 6.5-inch OLED model serving as the high end. Designer Jony Ive described the iPhone X last year as a "new chapter" in the company's history, and all three of these new phones are set to feature Face ID and the home button-less layout.
Release date is unclear, but Apple tends to hold its annual launches in the first half of September, meaning the 42 percent holding off for the new releases won't have to wait long.
The survey also had interesting news for Apple's augmented reality ambitions, as 32 percent said they would be more interested if a phone offered the technology versus just 21 percent last year.