Apple Secures Patent for Its Upcoming AirPower Wireless Charger
A closer look at Apple's hyped-up charging mat.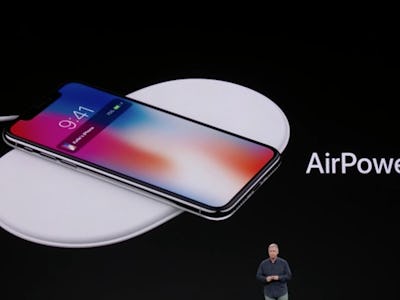 Apple
The AirPower, Apple's heralded wireless charger, could make an appearance along side this fall's new trio of iPhones. Ahead of this potential launch, the Cupertino-based company secured a design patent for the device in China on Friday, according to a report.
This charging mat was said to have the ability to simultaneously charge an iPhone, Apple Watch, and a pair of AirPods. Now, Apple fans across the internet have been given more renders of how the AirPower could look like once it hits shelves.
Patently Apple confirmed the company had been granted a design patent for the AirPower in Hong Kong and published a few mockups of it at various angles, giving Apple fans an idea of how wide and thin it will be.
All of these visuals are absent of any crucial design information to ensure the proprietary technology that went into this charger isn't leaked to other companies. And from what has been revealed about it so far, it could be like no other charging base on the market.
According to a Bloomberg report published in June, Apple is trying to cram a massive amount of tech in the AirPower and aiming to ship it by September. Mark Gurman — Bloomberg's Apple scoop machine — says this ambitious undertaking was the root cause of why the mat has faced delays since its announcement.
"Hopefully, Apple learns a lesson to only announce products that are for sure shipping soon or immediately after announcing," Ben Bajarin, an analyst at research firm Creative Strategies, told Gurman.
This design patent approval is a sign that Apple is working towards dropping this device. However, its recently released MacBook Pros were launched with issues keeping them from performing optimally. It remains to be seen if rushing to release the AirPower will result in hitches in the product.