MacBook Pro 2018 Throttling Complaints Go Viral on Reddit
Its keyboard might be the least of Apple's problems.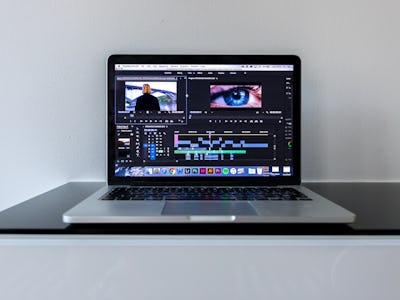 Unsplash / Marcus Löfvenberg
It's only been a week since Apple released its new line of MacBook Pro laptops, and the company has already run into some heat — literally. Two videos posted on the Apple subreddit Wednesday went viral and claimed that a certain version of the new computer is performing worse than previous generations.
The latest 15-inch MacBook Pro can be souped-up with a 6-core 2.9 GHz Intel Core i9 processor, capable of blazing fast performance. But Aaron Zollo, who ran a side-by-side comparison of Apple's newest laptop and the 2017 MacBook Pro on his YouTube channel, tells Inverse that the 2018 version is suffering from "severe" thermal throttling.
All computers have the ability to adjust the performance of their processors on the fly, a feature known as dynamic frequency scaling. This allows machines to conserve power or stop overheating, but the Core i9 MacBook reportedly begins to slow itself down before it even has a chance to get started.
"This thermal throttling is different as it is more severe," says Zollo. "It is to the point where I believe Apple put the processor in the MacBook just to be more up to date, but since it is so thin, there is not proper cooling."
Another video, posted by tech reviewer Dave Lee, went viral on Reddit Wednesday and underscored Zollo's claims. It demonstrated the Core i9 MacBook Pro taking four minutes longer to render a video on Adobe Premiere than it did for a 2017 MacBook Pro with an i7 processor — a less potent chip.
Lee believes this underperformance stems from the laptop's inability to appropriately cool down the processor, exactly like Zollo.
"This i9 in this MacBook can't even maintain the base clock speed, forget about Turbos and all that stuff, it can't even maintaining the 2.9 GHz base clock, which is absurd," says Lee in his video. "This CPU is an unlocked overclockable chip but all of that CPU potential is wasted inside this chassis — or rather the thermal solution inside this chassis."
Zollo says the effects of this thermal throttling won't be felt by customers who simply use their laptops for social media and web browsing, but the Core i9 MacBook isn't marketed towards those kinds of users.
The specs offered in these newly released MacBooks are seemingly geared towards professionals who need heavy-duty performance to render 3D graphics or videos, which come at a hefty price tag. A 15-inch MacBook Pro with all the bells and whistles will run you $6,699, and that's without any pre-installed software. All the while, a starter 15-inch MacBookPro would be $4,000 less.
This would mean that people in graphic design or animation would effectively be paying more for a slower machine that is supposed to be specially designed for their jobs. The Apple aficionados on Reddit were sorely disappointed.
"This is so frustrating. Apple has become form over function. Like when they installed the defective butterfly keyboard to save a quarter of a millimeter at the expense of reliability," writes one redditor. "I thought these products were for 'pros'. I feel like a 'pro' would value function over form so they can get their job done efficiently."
This newly released laptop made a move to redeem themselves from the complaints about its "defective" butterfly switch keyboard but in the process, it might have stepped into another minefield.
Apple did not immediately respond to Inverse's request for comment regarding the apparent issue.