Apple Faces Class Action Lawsuit for Allegedly Selling "Defective" Laptops
Thousands are petitioning for a recall.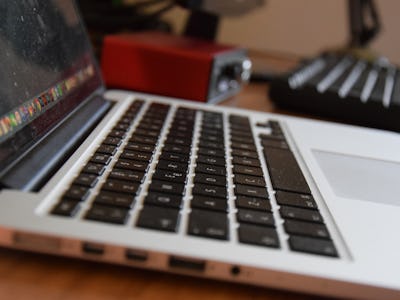 Flickr / Decristobbaris
Back in 2015, Apple announced a new MacBook with a butterfly switch keyboard that promised to be thinner and more reliable than previous designs. The controversial keyboards have not only sparked an online petition with more than 18,000 signatures demanding a recall of all products using the butterfly keyboard, but now Apple is getting sued.
According to the class action suit filed in the Northern District Court of California late Friday night, "thousands" of MacBook and MacBook Pro laptops produced in 2015 and 2016 experienced failure but Apple failed to disclose that to consumers. The suit, filed on behalf of two users, ZIxuan Rao and Kyle Barbaro, alleges that these defective laptops were knowingly sold to consumers and Apple did not honor its warranty agreements when the failed butterfly keyboards inevitably rendered the products useless.
"Although every MacBook comes with a one-year written warranty, Apple routinely refuses to honor its warranty obligations. Instead of fixing the keyboard problems, Apple advises MacBook owners to try self-help remedies that it knows will not result in a permanent repair," the suit alleges. "When Apple does agree to attempt a warranty repair, the repair is only temporary—a purportedly repaired MacBook fails again from the same keyboard problems. For consumers outside of the warranty period, Apple denies warranty service, and directs consumers to engage in paid repairs, which cost between $400 and $700. The keyboard defect in the MacBook is substantially certain to manifest."
The suit claims that Apple "promoted and sold laptops it knew were defective in that they contain a keyboard that is substantially certain to fail prematurely." The suit arrives less than a month after a separate investigation of the divisive keyboard by AppleInsider led to an online petition on Change.org, where more than 18,000 people have already signed with the demand that Apple recalls any MacBook that uses the butterfly switch keyboard.
Rao and Barbaro are not only seeking damages and legal fees, but the two plaintiffs demand that Apple admit to the design flaw and cover all costs for replacing the defective computers.
Even if the plaintiffs are unsuccessful, the quickly growing petition suggests that problems with the butterfly switch keyboard are widespread. For now, the company remains silent as thousands of Apple users ask that it acknowledge the divisive keyboard and its flawed design.