Apple Appears to be Clamping Down on Drone Video, Says Popular Youtuber
Duncan Sinfield predicts the end of the genre.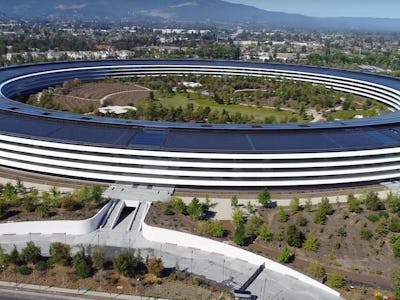 Duncan Sinfield/YouTube
End of an era? Drone-owning YouTubers have captured Apple's UFO-shaped headquarters from a multitude of angles and states of construction in recent years, but that may soon come to an end. Duncan Sinfield, a long-time contributor to the genre, revealed on Monday that security appears to be clamping down.
"It's only a matter of time until the campus becomes shut-off to drones completely … with a geo-fence, or something similar," Sinfield writes in a description for a video posted Monday. "Security at Apple Park generally responds in two white Priuses to my precise take-off locations in 10 minutes or less. While this is speculation, my instincts tell me that Apple is tracking all drones in the vicinity of the campus with sophisticated radio frequency technology from companies such as DeDrone (a San Francisco-based aerospace security company). As always, I respect all requests by Apple security to land my drone and leave the area when asked to do so. They are always asking if I'm an Apple employee too. So to all of the Apple employees watching (and reading), don't fly your drones over The Park, it's frowned upon!"
The project was one of the last things Steve Jobs worked on before he died in 2011. For months prior to his death, Jobs told Cupertino City Council how the four-story, 2.8-million square foot building "looks like a spaceship landed" on the 175-acre green space. The company held its first press conference on the new campus in the Steve Jobs Theater in September 2017, with CEO Tim Cook honoring his memory.
Sinfield used his drone to capture the Apple Park during its construction, showing it from its humble building site beginning to how it looked just one week before the iPhone X launch. It hasn't been an easy ride for Sinfield or any other drone operators: in February, Matthew Roberts used his Phantom 4 Pro to help another pilot retrieve his aircraft that crashed into the roof's solar panels.
All eyes will be transfixed on Apple this June 4 when it kicks off the annual Worldwide Developers' Conference and outlines its plans for the coming year in software. The Park won't feature in coverage, though — this year's event will take place at the McEnery Convention Center in San Jose, California.
While drone footage during construction brought publicity to its project, it seems Apple is less interested now it's switching into work mode.