Apple Park: Drone Crashing into "Spaceship" Revealed in New Footage
The craft was found nestled in the solar panels.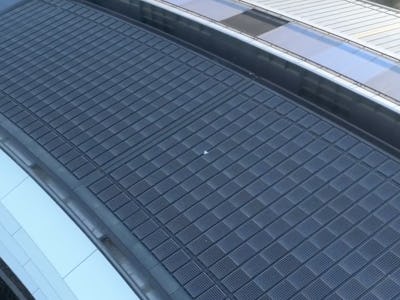 Matthew Roberts/YouTube
A drone has crash landed on Apple's spaceship-shaped main headquarters, with its owner enlisting the help of a second drone operator to spot the lost aircraft. Unfortunately, in possibly the most expensive case of asking-the-neighbor-for-the-ball-back, the company has yet to return the remote-controlled aircraft to its owner.
"A drone crashed into Apple Park over the weekend," Matthew Roberts, the drone operator that found the aircraft, said in his YouTube description. "The drone pilot got in touch with me shortly after the incident to inquire if I could assist in locating the downed drone. I was happy to oblige, so I took a Phantom 4 Pro out and began searching for it. It was eventually located on the Solar Roof and appeared to be intact for the most part."
Drones have been a popular feature of the new campus. Roberts himself has released regular updates as the campus gradually took shape, while Duncan Sinfield has also captured footage. Further footage has come from builders sharing their handiwork on Snapchat.
In this case, it didn't quite go to plan. There were no signs of premature failure at the start of the trip, but midway through the journey the drone spun out of control. The pilot was able to share the footage with Roberts as the DJI app cached the video prior to failure.
Watch the crash landing footage below:
The new campus was a pet project of co-founder Steve Jobs, who outlined his vision of the future campus to the Cupertino City Council in June 2011, four months before he passed away. At the time, Jobs described it as looking "like a little spaceship landed." The Steve Jobs Theater, positioned on the same plot on the outside of the ring, was first used to unveil the iPhone X in a September 2017 event, with CEO Tim Cook paying tribute to the late Jobs.
The building, designed by famed architect Norman Foster to hold around 13,000 employees, has faced some teething problems. On Friday, Bloomberg reported that employees keep walking into glass.
In the case of the drone, it landed in between one of the many photovoltaic panels located on the roof. The building was designed with the environment in mind. Solar panels placed on every roof provide 75 percent of the campus' energy source, and the ultimate goal is for the campus to run entirely on renewable energy.
The drone operator claims they have contacted Apple to get the drone back, but has received no word so far. Inverse has contacted Apple for further comment on the incident.