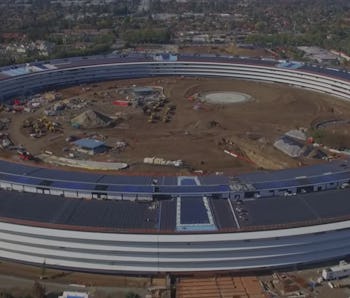 Innovation
Apple's Spaceship Campus Looks Stunning in This 4K Drone Footage
Apple's new campus is coming together.
Matthew Roberts/YouTube
Apple's new campus, officially titled Apple Park, looks like something out of a sci-fi film. The building started welcoming employees last month, but some construction is still underway and it's expected to take over six months to move all personnel over to the new space. One of Steve Jobs' final projects, new drone footage reveals the stunning work that went into making Apple's new headquarters stand out from the crowd.
On Sunday, Matthew Roberts released a time-lapse video of the campus under construction. The footage was shot with a DJI Phantom 3 Professional over the course of 14 months and shows the campus in incredible detail. If you have a 4K screen to hand, you won't want to miss this.
Over 12,000 employees will work in the four-storey building. The end goal is for the campus to run entirely on renewable energy: every roof will be covered by a solar panel, and the source will account for 75 percent of total energy use.
Apple planned green space as a central feature of the project from the start. The plot used to host a property primarily owned by Hewlett-Packard, and the concrete structure made for a rather dull sight. With the Apple campus, the parking is mostly underground. Where 20 percent of the previous property was landscaping, the new campus brings that figure to 80 percent, doubling the number of trees on the property to 7,400. The opening in the center will play host to a 30-acre park.
Inside the spaceship itself, employees will be able to make use of a 100,000-square-foot wellness center, seven cafeterias, a huge research and development center, and a 1,000-seat underground auditorium. The auditorium is likely to become the most familiar area to the public: Apple is famed for its impeccable product announcement events, which Jobs popularized during his life upon his return to the company in 1997. The auditorium is named the Steve Jobs Theater in his honor.
Jobs passed away in 2011, and the campus could become the most recognizable final project that the CEO was involved in. A project he felt passionately about, Jobs personally attended town hall meetings in Cupertino to lobby for its creation.
Watch the timelapse below: