The Apple Campus 2 Looks Incredible in This New Drone Footage
Feast your eyes on the future.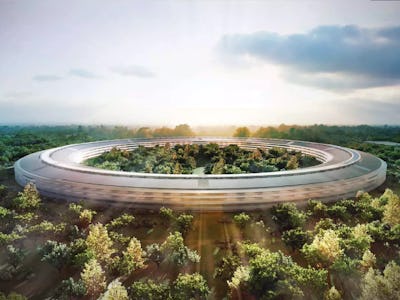 Apple
It's finally coming together. As Apple's ambitious spaceship-shaped campus comes to life, new drone footage in staggeringly high resolution has given us a sneak peek at what the company's future building may look like. When complete, it will be one of the largest office buildings in the world.
Aerial imaging experts SkyIMD have produced a 1.7 gigapixel image of the new Apple campus, covering just over an inch per pixel. While the original image weighed in at a staggering 4.76 gigabytes, the team has compressed it down for web viewing to a slightly more manageable 27 megabytes.
That doesn't mean you're missing out on any of the details. The resolution allows viewers to really get up close and see what's going on.
Going by this picture, there's still some work to be done before the building opens in 2017. When complete, almost every roof will be covered by a solar panel. The plan is for the campus to run entirely on renewable energy, with 75 percent of energy coming from solar panels.
Until then, SkyIMD's photo gives us a detailed image of how far along work has come. This red truck, reproduced below in detail, is in the above picture at the southern side of the building:
Apple plans to transform the surrounding area into a sea of green. A 30-acre park will sit at the center of the circle, while in the building itself, employees will have access to seven cafeterias, a 100,000-square-foot wellness center, a giant research and development center, and a 1,000-seat underground auditorium. The auditorium will be used to show new Apple products to the world, in the famous "Stevenotes" style that founder Steve Jobs popularized over his career.
The building itself may well be one of the last major products to come out of Apple that Steve Jobs had a direct role in. Jobs was passionate about the campus as a new, modern building that could foster a culture of co-operation and openness. In many ways, Jobs's final legacy for Apple could help chart the course of how it operates for the foreseeable future.