New Drone Footage of Apple HQ Shows Massive, Solar Panel–Adorned "Spaceship"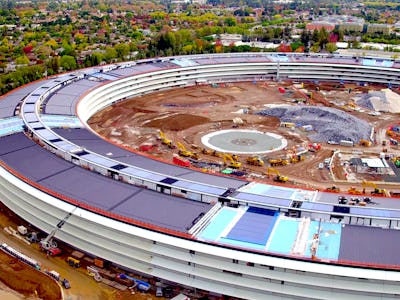 Duncan Sinfield
The Apple Campus 2, nicknamed the "Spaceship," is nearing completion. It's now November, and the world's most futuristic office space is slated to open in early 2017. It's beginning to look a lot like a finished building — especially so now that the roof is tiled in solar panels. Two new unofficial drone videos show just how much progress has been made.
Apple's new headquarters will be one of the largest office buildings in the world. From the perspective of a drone, the scale isn't at first clear. But when you see enormous bulldozers become dwarfed and toylike next to the buildings, it's easier to comprehend the Spaceship's size.
The campus will only be powered by renewable energy, and 75 percent of that energy will come from solar power. Just about every roof is covered in solar panels. Were Steve Jobs alive today, he might've chosen to go with Tesla and SolarCity's new solar roofs, which are arguably more attractive than traditional panels.
The Spaceship is Jobs's last gift to Apple, which some analysts say has floundered in the five years since he passed away. He intended it to ensure that the culture of Apple — an obsession with beauty in design, and a spirit of openness and collaboration — would live on. Early next year, when Apple employees begin taking over the mega-office, we'll see whether his ultimate dream comes to fruition.