Apple Park Video Shows Stunning Campus Ahead of iPhone 8 Launch
The company is planning to host its first event on the campus soon.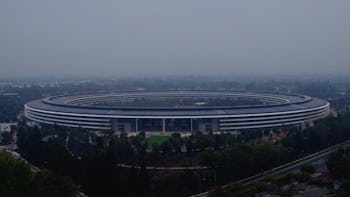 Duncan Sinfield
Apple is set for its biggest product launch in years. At the company's new Apple Park campus, Tim Cook is expected to unveil the iPhone 8 at an event scheduled for next Tuesday. It's the first time Apple will hold a press conference in the Steve Jobs Theater, whose namesake worked on the new campus project prior to his death in 2011. On Monday, YouTube user Duncan Sinfield uploaded aerial drone footage of how the campus looks just one week before the big day.
The next iPhone launch is shaping up as one of the biggest in the product line's 10-year history. A 5.8-inch OLED screen will adorn a device a similar size to the 4.7-inch iPhone 7, while a face recognition scanner will replace the fingerprint sensor for ultra-fast unlocking. A depth sensor on the rear will boost augmented reality apps, while a larger battery will help users get more from a single charge. If rumors turn out to be accurate, almost every aspect of the device will receive some sort of upgrade.
The Steve Jobs Theater will make its press debut with the introduction of this ambitious new device. View the footage below to see how the smaller theater looks alongside the main building:
Sinfield has uploaded regular videos that document how the campus has progressed over the past two years. His April 2016 update shows how in a very short space of time, Apple's campus went from a building site to a prime location to hose a flagship product launch.
Construction budget for the entire campus was placed at a staggering $5 billion in 2013, which led the company to explore cost-cutting measures. Despite this, the resultant project looks spectacular. The main building itself is a four-storey, 2.8-million square foot ring shape of around one mile circumference with wide green spaces on either side. Of the 25,000 people Apple employs in Silicon Valley, 12,000 will work at the new campus.
Jobs himself spoke passionately about the project to Cupertino City Council. In June 2011, just four months before his death, he explained how the curved design required high building costs, but the result was impressive.
"It's a pretty amazing building," Jobs said. "Looks a little like a spaceship landed!"
Like the campus itself, fan expectations are high that the iPhone 8 also looks out-of-this-world.