Apple's Giant Spaceship Headquarters Shown Off in 4K Quadcopter Footage
Apple Campus 2 is still under construction but is really, really big.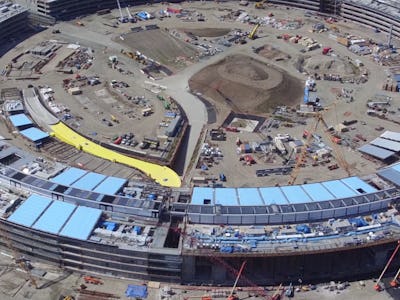 YouTube / Duncan Sinfield
Apple Campus 2's good side is on display again in yet another gorgeous drone video. The massive future home for the Cupertino company is still in the construction phase and looks basically like a post-apocalyptic biodome in which the last surviving humans will either fight to the death or work on self-sustaining gardens or something.
The new 4K drone footage, posted by Duncan Sinfield Sunday, shows up-to-date construction of the facility mixed with shots from earlier months for the sake of comparison. Looks like things are coming along!
All in all, the footage is nice-looking, though not hugely enlightening. It does, for sure, show the impressive scope of the thing: a whopping 176 acres, including a 100,000 square foot Fitness Center and two parking structures that will accommodate a combined 11,000 cars. We do see what Apple purports to be the largest piece of curved glass in the world, too.
Apple Campus 2 should be complete within the next year.
Tl;dr this will be a very large campus.