Apple CEO Tim Cook Gives '60 Minutes' Preview of Futuristic New Headquarters
"We think it's so important to have a place that inspires you."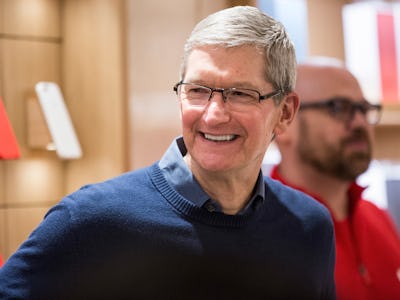 Andrew Burton/Getty Images News
Maybe the most exciting thing about watching Charlie Rose chat with Apple's CEO Tim Cook on 60 Minutes' "Inside Apple" was seeing that Rose actually has legs. Out from behind his usual roundtable, Cook brought the great interviewer to see the site of Apple's future headquarters at One Infinite Loop in Cupertino, California.
The segment begins with Rose repeating a line by the late founder and CEO Steve Jobs about getting "a glimpse of Apple's future." They loaded their crew into 4x4s and climbed a mountain to look down at and then head inside the company's biggest project ever. Rose inquired as to whether a rumored $5 billion dollar price tag was correct and Cook laughed, "It's a lot. It's somewhere near there."
Though there are 3,500 people building what is known as "the spaceship," 13,000 people will work inside once it's erected.
"At the core of Apple is the capacity to think about everything as building a product," Rose mused. Apple's Chief Design Officer Jony Ive (whose office will be at the top floor) played a role in designing it. He and Rose head inside just in time to witness the installation of 3,000 sheets of curved glass from Germany — that's literally miles of glass. The campus will be wider than the Pentagon. Eighty percent of the grounds will be landscaped and on that land, the company will grow fruit and veggies that will be served in the cafeteria. It will also be powered mainly by solar energy and be fitted with a natural ventilation system.
A "center for innovation," is how Cook describes this new venture. "We think it's so important to have a place that inspires you."
Other topics touched on in this half-hour interview included Steve Jobs ("I've never met anyone on the face of the Earth like him before"), safety standards at Apple's Chinese manufacturing sites (they've upped their game after a series of suicides), that Cook is gay (he came out last year), a quick visit to the company's secret design lab (it looks a lot like an Apple store, according to Rose), encryption and cyberterrorism (don't sweat it, they don't have access to your iMessages), and how much the company is paying in taxes (a helluva lot!). Ending with a sneak peek of the future headquarters was definitely the cherry on top of Apple's tasty ice cream mountain.