New Alex Gibney Doc Tries, and Fails, to Answer: Who Was Steve Jobs?
'Steve Jobs: The Man in the Machine' asks questions we already know the answers to.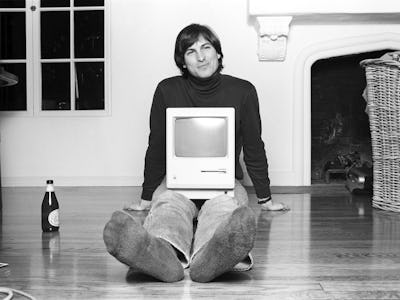 www.magpictures.com
Ultra-prolific documentarian Alex Gibney's new film, the unauthorized Steve Jobs: The Man in the Machine, comes at a precarious time. It has been four years since the Apple guru's death and two years since the first Jobs hagiography (starring Ashton Kutcher, Jobs was a misfire). The new doc is trying to get a word in edgewise before Danny Boyle and Aaron Sorkin's Michael Fassbender-led eponymous biopic hits in October. So what does Gibney unveil about the modern Edison? Turns out, not much we didn't already know.
Gibney begins with the collective sadness after Jobs' 2011 death from pancreatic cancer. Mourners laying wreaths and trinkets at Apple stores and lighting virtual candles on their iPads in vigils across the globe. Cue a stream of reaction videos, people on YouTube in confessional stupors, typified by one small kid nervously twitching in his mini office chair working through his emotions. "He made the iMac. He made the MacBook. He made the MacBook Pro. He made the MacBook Air. He made the iPhone," the kid laments. "He made everything."
The sloshy mix of images, technology, and emotions are at the heart of Gibney's doc, which attempts to reconcile how a figure beloved for compulsively advancing technology could also be such a terrible person to know personally. It's just that the movie goes to such heavy-handed and lazy lengths to get to the bottom of the cult of Jobs.
Gibney conscripts all the expected talking heads. Former engineer Bob Belleville recounts how Jobs was always "seducing you, vilifying you, or ignoring you." Another former engineer, Daniel Kottke, explains how Jobs personally cut him out of stock options when the company began expanding. Former iPhone team member Andy Grignon recounts the "half-hour mindfuck" Jobs lobbed at him when he said he was leaving the company. And yet they marvel at Jobs' genius in one breath while objecting to the ways in which Jobs' business tenacity poisoned their lives.
Nowhere is this more prominent than when the doc addresses Lisa Brennan, the biological child Jobs denied and reluctantly paid child support for when his ex, Chrisann Brennan (who appears in the movie), protested. Though he was a multi-millionaire, Jobs resented forking over $500 a month. The fact that Jobs himself was adopted adds to the off-putting nature of his personal history. But Gibney conveniently leaves out any other conclusion while skirting the fact that the daughter reconnected with her father before his death.
The glaring omissions of the movie are no doubt the people Gibney really wanted (and needed) to get. Steve Wozniak, Jobs' widow Laurene Powell, Jobs' first daughter, Apple's lead designer Jonny Ive, and current Apple CEO Tim Cook are all noticeably absent among the clumsily secretive shots Gibney captured of the Apple campus. The holdouts were probably better off for not participating out of solidarity for their friend. The backlash was evident from the film's first screening out of SXSW in March when Apple executive Eddy Cue tweeted his disapproval.
The people who lit virtual iPhone candles might be surprised by the unpleasant revelations about Jobs. But they'll come as less of a shock to anyone who read Walter Isaacson's biography Steve Jobs. Gibney fell into a similar trap in his other 2015 movie, Going Clear: Scientology and the Prison of Belief, which was based on writer Lawrence Wright's much more vivid book of the same name.
Gibney is left scraping for dirt on Jobs. He moves from the Lisa episode to other controversies: the legal storm around back-dating stocks for Apple executives, Jobs' dissolution of the company's philanthropic pursuits, Apple's shady tax practices, the legal fallout for Gizmodo after the iPhone 4 leak, and the unfair working conditions at Apple's biggest Chinese manufacturer, Foxconn. And did you know Jobs used to park in handicapped parking spots on the Apple campus?
Yes, Jobs could be an incredible asshole and a visionary genius at the same time, and he created tech that simultaneously connects us and makes us more isolated. But it isn't a revelation to say that someone can be many things to many people. Jobs, not uniquely, yawed between saint and sinner. And while that's the persona Gibney ponders, it's a contradictory persona that wasn't a secret. It's enough to make you wish Gibney had taken the slogan "Think Different" to heart.