Apple CEO Tim Cook Previews New ''Spaceship" Headquarters
Apple's spaceship will bring all 13,000 or so employees into one building.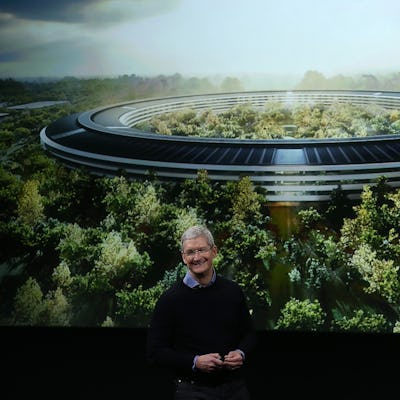 Justin Sullivan / Getty Images
Monday's Apple product event saw the debut of a new iPhone and iPad, among other products, but it also marked a retirement of sorts: It was the last time company executives will show new products in the Town Hall at 4 Infinite Loop in Cupertino, California. Before ducking off the stage at the product launch, Apple CEO Tim Cook paused in a very Steve Jobs fashion to tell the audience "one more thing": Apple's next special event will be held in its new circular headquarters. Cook became sentimental when he reflected back on Apple's 40 years of existence come April 1.
"We've had a lot of important announcements here," Cook said. "It's a very special place with a lot of memories. The iPod was announced in this room and so was the app store. We have a lot of great memories here."
In the event invitations, Apple had dropped the hint, "Let us loop you in," which had people guessing it could mean a new Apple Watch band (which did happen), the comeback of the iPod Touch loop strap, or a reference to the Infinite Loop — the street that encircles Apple's current headquarters. It turns out that the invitation was giving a nod to the new curved building, which people are calling "Apple's spaceship."
Since 2013, there have been three Apple events a year. And since 2015, they have gone in this order: A "Special Event" in the March held at its Cupertino headquarters, the World Wide Developer's Conference in June at the Moscone West convention center in San Francisco, and another "Special Event" in September (last year, it was held at the Bill Graham Civic Auditorium in San Francisco.)
Renowned London-based firm Foster + Partners — the architects responsible for the glass-enclosed courtyard at the British Museum in London, the 2007 renovation of Smithsonian's National Portrait Gallery, the American Art Museum, and the [Hearst Tower in New York](https://en.wikipedia.org/wiki/HearstTower(Manhattan), and the "Gherkin" in London — designed the approximately 2.8 million square-foot headquarters. As one would expect, the new campus is going to be massive, elaborate, and expensive — the total estimated cost is $5 billion. Apple acquired 175 acres of prime Silicon Valley land.
Some of the facilities that will be on the campus are:
1) The main circular building that will serve as the office, research, and development center. It will hold Apple's 13,000 employees.
2) A corporate fitness center.
3) A 1,000-seat corporate auditorium (featured in Apple's event Monday).
4) A central plant that will generate the company's electricity onsite.
Steve Jobs initially described the headquarters in a proposal to the Cupertino City Council back in June 2011:
"It's a pretty amazing building. It's a little like a spaceship landed, but there it is. It's got this gorgeous courtyard in the middle. If you build things, this is not the cheapest way to build something. There is not a straight piece of glass in the building. It's all curved.
"It's pretty cool," Jobs concluded.
All the glass for the building had to be custom made for the building, and the campus will be dotted with fruit trees as an homage to the area's agricultural heritage. The current campus is like a university comprised of six main buildings within Infinite Loop, and another 30 that are scattered throughout Cupertino to accommodate Apple's many employees. The new headquarters will bring everyone together in one building.
For almost 40 years, Apple has been pushing out products and creating new technologies that positively affect many people, Cook said on Monday.
"Next year, in 2017, we are going to have many many opportunities to invite all of you to join us here. We are looking forward to moving and we can't wait to see what's in store in the next 40 years and share it with you."