Tim Cook Shares Steve Jobs' Dream for Apple Park
The Apple CEO introduced the new campus.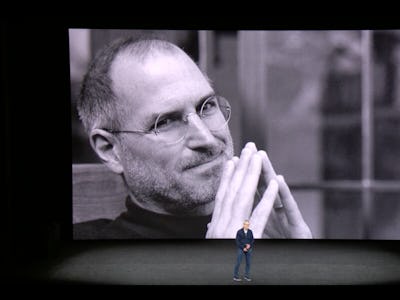 Apple
Steve Jobs' pre-recorded voice introduced the first event at his new theater on Tuesday. The Apple co-founder, who passed away in 2011, worked on the company's new campus in the months leading up to his death. Tim Cook, the company's CEO, shared how Jobs' input can be felt throughout the Steve Jobs Theater and the wider campus.
"Steve's vision and passion live on here at Apple Park and everywhere at Apple," Cook said. "Today and always we honour him."
In June 2011, four months before he passed away, Jobs outlined his vision of the future campus to the Cupertino City Council, including the giant building at its heart.
"It's a pretty amazing building. Looks a little like a spaceship landed." Jobs told the council. "It's a circle! And so it's curved all the way around. As you know, if you build things, this is not the cheapest way to build something. There is not a straight piece of glass in the building. It's all curved."
What started of as a sea of asphalt gradually turned into a 175-acre greenspace with over 9,000 trees. The campus hosts one of the largest on-site solar installations in the world, and it's powered entirely by renewable energy.
At its center is a four-storey, 2.8-million square foot ring shape building around one mile circumference with wide green spaces on either side. Of the 25,000 people Apple employs in Silicon Valley, 12,000 will work at the new campus.
Although Tuesday's event was the first in the theater, drone footage and Snapchat Map posts gave the public a glimpse at the new construction as it was coming together.